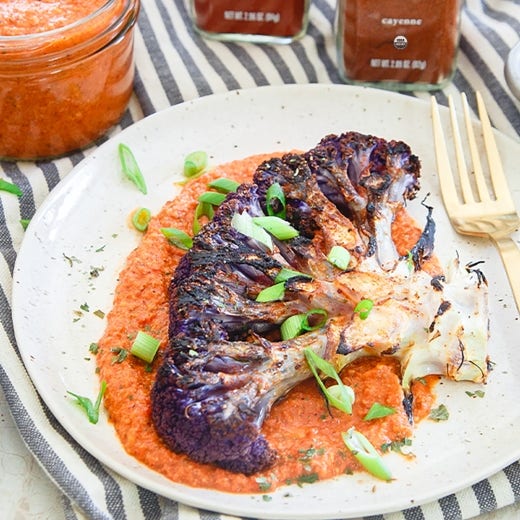 Grilled Cauliflower Steaks with Romesco Sauce
Grilled cauliflower steaks meet a smoky Spanish Romesco sauce enlivened with organic paprika and cayenne.
For the Grilled Cauliflower:
2 large heads cauliflower, cut into 2 1-inch thick slices/steaks each (reserve extra for another use)
2 tablespoons grapeseed oil (or other high-heat oil)
1 teaspoon sea salt or pink Himalayan salt
1 teaspoon Simply Organic Black Pepper
2 1/2 teaspoons Simply Organic Paprika, divided
For the Sauce:
1/2 cup almonds, toasted
3 ripe Roma tomatoes, quartered
1/4 cup toasted plain bread crumbs
2 tablespoons sherry vinegar
1 teaspoon Simply Organic Parsley
1 large red bell pepper, roasted (in oven or pre-roasted, from a jar)
2 cloves garlic, minced
1 teaspoon Simply Organic Cayenne
3 tablespoons olive oil
Green onion, chopped, for garnish
Directions
To Make the Grilled Cauliflower:
Preheat grill or stove-top grill pan to high.
On a large baking sheet, spread cauliflower steaks and brush both sides with grapeseed oil.
Season each side with salt, pepper and 1 teaspoon paprika.
Grill for about 5 to 7 minutes on each side, until cooked through and charred.
To Make the Sauce:
In a food processor, pulse almonds until roughly chopped.
Add tomatoes, bread crumbs, vinegar, parsley, red pepper, garlic, remaining 1 1/2 teaspoon paprika and cayenne. Pulse until finely chopped and well blended.
With food processor running, slowly drizzle in olive oil and process until smooth.
To Assemble:
Divide and spread sauce evenly among plates.
Place grilled cauliflower on top of sauce and garnish with green onion.