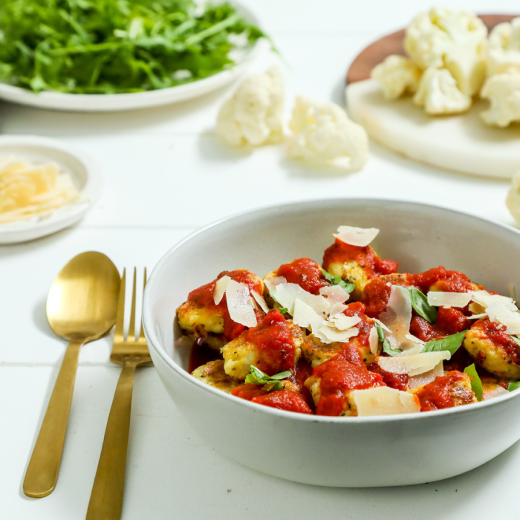 Homemade Gluten-Free Cauliflower and Chickpea Flour Gnocchi
Made with garbanzo bean flour and arrowroot starch, this gluten-free cauliflower gnocchi recipe will easily rival those made with gluten!
4 cups cauliflower florets
1 egg yolk
1/4 cup garbanzo bean flour, plus more for dusting work surface and baking sheet
1/4 cup arrowroot starch
1/4 teaspoon sea salt or pink Himalayan salt
1 1/2 teaspoons Simply Organic® Spice Right Pepper and More
1 tablespoon olive oil or avocado oil
1 tablespoon unsalted butter
Grated Parmesan cheese, for serving
Directions
In a large pot with a steamer basket inside, bring 2 inches water to a simmer. Add cauliflower to basket, cover and steam for about 10 minutes, until fork tender.
Transfer cauliflower to a kitchen towel and let cool slightly, then gather corners of towel and squeeze liquid from cauliflower. Discard liquid.
In a food processor, combine cauliflower and egg yolk. Purée for about 2 minutes, scraping sides of bowl every 10 to 15 seconds, until mixture is very smooth.
Transfer mixture to a large bowl. Sift flour and arrowroot starch over cauliflower, then sprinkle salt and Spice Right Pepper and More over top. Use a fork to gently combine just until no pockets of dry flour remain. Lightly press mixture together.
In a medium-sized pot, bring salted water to a low boil. Gently add half the gnocchi and cook for about 2 minutes, until gnocchi float to the top. Use a slotted spoon to transfer gnocchi to a plate, then repeat with remaining gnocchi.
In a large non-stick skillet over medium-high heat, heat oil and butter. Add boiled gnocchi and sauté for 4 to 5 minutes, until golden brown.
Lightly dust a work surface with garbanzo bean flour and gently knead dough 4 to 5 times, until dough is slightly sticky and smooth. Lightly dust a baking sheet with garbanzo bean flour.
Cut dough into 4 pieces, then roll each piece into a 5-to-6-inch long, 3/4-inch thick rope. Cut ropes into 3/4-inch-long pieces. Form ridges by using your thumb to press each piece of dough crossways against the back side of a fork, then roll down and off the fork. Place gnocchi pieces on prepared baking sheet and repeat with remaining dough.
Serve with your favorite sauce and/or Parmesan.
Recipe Tip:
If you prefer boiled to sautéed gnocchi and/or wish to save time, simply skip step 8.