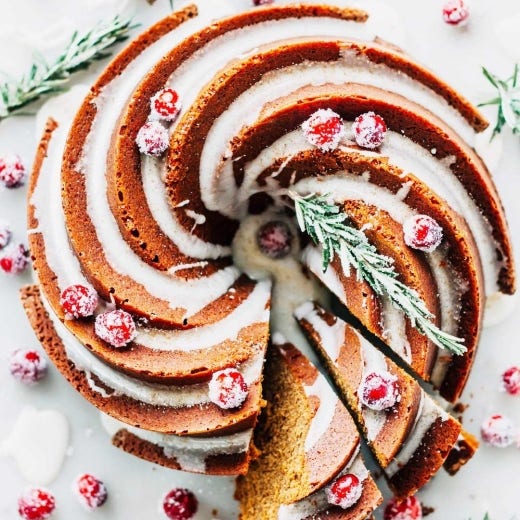 Gingerbread Bundt Cake with Ginger and Cinnamon Glaze
Filled to the brim with warming holiday Simply Organic spices like cinnamon, ginger, nutmeg and cloves, this Gingerbread Bundt Cake is just the recipe you need for the busy holiday season. It comes together quickly and can be served for breakfast, dessert or for a quick snack between holiday errands!
Directions
Preheat oven to 350 degrees. To prepare Bundt pan, mix the flour, cinnamon and ginger in a small bowl. Coat entire pan with softened butter, including all nooks and crannies. Sprinkle flour-spice mixture into Bundt pan and turn pan, tapping to coat sides. Tap excess flour mixture into a large mixing bowl.
To make the cake batter, Into the large mixing bowl, add the 3 cups flour, baking soda, baking powder, spices and salt, and whisk until well combined. Set aside.
In the bowl of a stand mixer fitted with a paddle attachment, cream butter and brown sugar together for about 5 minutes, until light and fluffy. Add molasses and vanilla and beat until incorporated. Add room temperature eggs, one at a time, and beat until well combined.
Scrape down sides and bottom of bowl. Add 1/3 dry ingredients followed by 1/3 buttermilk. Alternate until all of ingredients have been incorporated.
Pour batter into prepared Bundt pan and bake for 30 to 40 minutes, or until top of cake feels firm when gently pressed. Cool for 20 minutes, then turn out onto a rack to cool to room temperature before glazing.
To make the glaze, whisk all glaze ingredients together until smooth and there are no lumps. If glaze is too thick, add a bit more liquid, 1 teaspoon at a time, until desired consistency is achieved. If glaze is too runny, add more powdered sugar 1 teaspoon at a time.
Once cake is cooled, place a piece of parchment under cooling rack and use a spoon to drizzle glaze over top. Allow glaze to set for 15 minutes before serving. Enjoy!