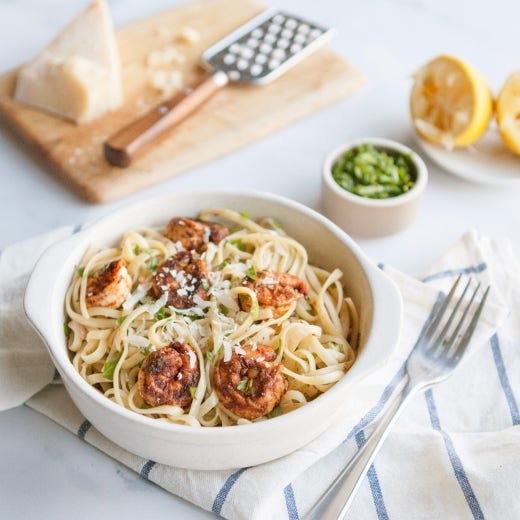 Garlic Shrimp Pasta with Ancho Chili
Fresh shrimp meets a buttery, lemon-garlic sauce tossed in tender fettucine and topped with fresh parsley and parmesan. Packing flavors of ancho chilies, smooth white wine and fresh-squeezed lemon, this garlic shrimp pasta will be a decadent new addition to your recipe box.
1 1/2 tablespoons Simply Organic® Ancho Chili Powder
1 teaspoon Simply Organic® Crushed Red Pepper
3/4 teaspoon sea or Himalayan pink salt, plus more to taste
1 pound raw medium shrimp, peeled, deveined and tails removed
6 tablespoons unsalted butter, divided
1 medium shallot, chopped
3 cloves garlic, minced
1/2 cup dry white cooking wine
3 tablespoons fresh-squeezed lemon juice
8 ounces spaghetti or fettuccine, cooked
1/4 cup freshly grated Parmesan, plus more for garnish
1/4 cup chopped fresh parsley leaves, plus more for garnish
Simply Organic® Black Pepper, to taste
Directions
In a small bowl, combine Ancho chili powder, crushed red pepper and salt. Coat shrimp with spice mixture.
In a large skillet over medium heat, melt 2 tablespoons butter. Add shrimp and cook on high, flipping with tongs periodically, for 2 to 3 minutes or until cooked through. Spoon shrimp onto a plate and set aside.
Add 2 tablespoons butter to skillet, and reduce heat to medium. Add shallots and garlic, and cook for 2 to 3 minutes, until fragrant. Add wine and cook for 5 to 7 minutes, until wine reduces by half. Reduce heat to low and add remaining 2 tablespoons butter, whisking until incorporated. Add lemon juice and whisk until well combined.
Pour sauce over pasta and toss until noodles are well coated. Fold in Parmesan and parsley. Add salt and pepper, as desired. Serve topped with shrimp and garnished with additional Ancho chili powder, Parmesan and parsley.