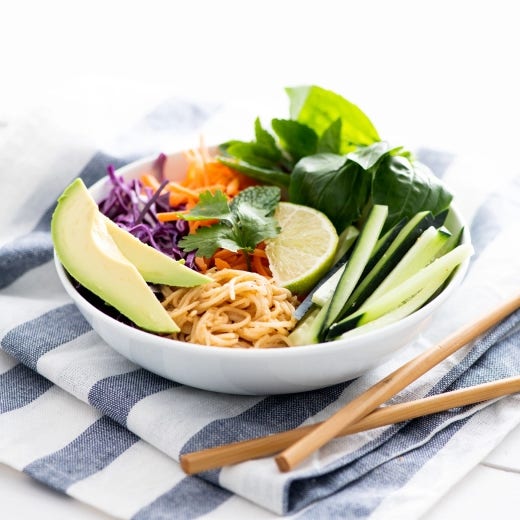 Fresh Spring Roll Bowl with Ginger-Peanut Sauce
Rice noodles tossed in a savory peanut sauce seasoned with organic ginger, garlic and black pepper create the base for this colorful spring roll bowl recipe.
1/3 cup unsweet creamy peanut butter
3 tablespoons low-sodium soy sauce
2 tablespoons olive oil
2 tablespoons rice vinegar
1 tablespoon honey
1 tablespoon fish sauce
2 teaspoons chili garlic sauce
1 1/2 teaspoons Simply Organic® Ginger
1 teaspoon Simply Organic® Garlic Powder
1/2 teaspoon Simply Organic® Black Pepper
3 tablespoons water
12 ounces rice noodles
Sea salt or pink Himalayan salt, to taste
1 cup shredded carrots
1 cup thinly sliced cucumbers
1 cup shredded purple cabbage
1 avocado, sliced
1/3 cup fresh mint
1/3 cup fresh cilantro
1/3 cup fresh basil
Lime wedges
Directions
In a large bowl, combine peanut butter, soy sauce, olive oil, rice vinegar, honey, fish sauce, chili garlic sauce, ginger, garlic powder, black pepper and water. Whisk until well blended.
Cook rice noodles according to package directions. Drain well.
In a large bowl, combine noodles and ginger peanut sauce. Toss until well coated, then season with salt.
Divide noodles into serving bowls and top with carrots, cucumbers, cabbage, avocado, mint, cilantro and basil. Serve with lime wedges.
Recipe Tips:
For a vegan version, simply omit the fish sauce.
To bulk up the protein, add cooked shrimp, chicken or tofu.