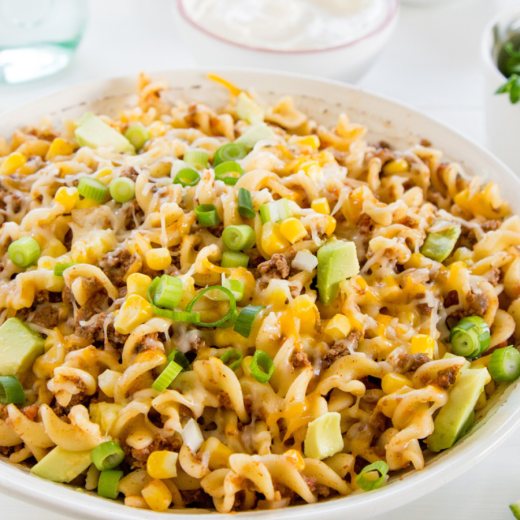 Taco night meets pasta with this cheesy fiesta your entire family will love! Melty cheddar cheese and all your taco topping favorites make this taco pasta recipe a real crowd pleaser.
1 pound ground beef
1/2 cup onion, finely chopped
1 garlic clove, chopped
2 cups water, divided
2 cups salsa
1 cup frozen corn
1 package Simply Organic® Mild Taco Seasoning Mix
2 cups dried pasta (elbow or fusilli)
1 1/2 to 2 cups cheddar cheese, shredded
Optional garnishes: cilantro, sliced green onion, sour cream, sliced or cubed avocado
Directions
In a large skillet over medium-high heat, brown ground beef. Drain and return to skillet.
Add onion and garlic. Stir for 30 seconds to 1 minute, until fragrant.
Add 1 cup water, salsa, corn and taco seasoning mix. Stir until well combined.
Add pasta. Bring to a boil, then reduce heat to medium-low. Cover and let simmer for 5 to 6 minutes, then add remaining 1 cup water. Stir well, replace lid and let simmer until pasta is tender.
Remove from heat and sprinkle cheese over top. Let cheese melt, then top with cilantro, green onion, sour cream and avocado. Serve immediately.
RECIPE TIP:
If your crowd prefers things hot-spicy, use our Spicy Taco Seasoning Mix in place of the Mild.