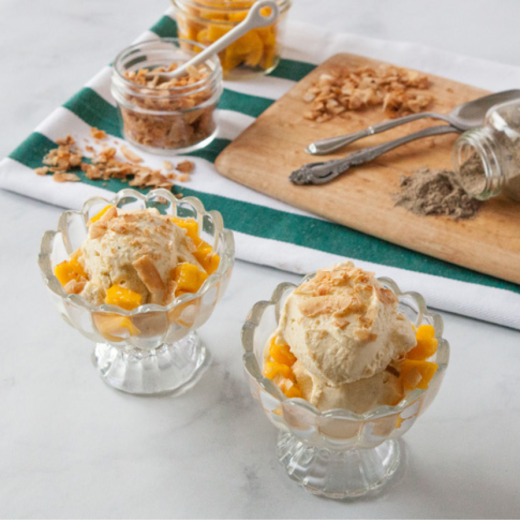 Coconut Mango Ice Cream with Cardamom
There's nothing like a scoop of homemade ice cream. This coconut mango ice cream recipe is made with real coconut milk, a vibrant mango puree and a generous spoonful of fragrant cardamom.
2 large ripe mangos, peeled and pitted, divided
2 tablespoons honey
2 teaspoons fresh lemon juice
1 1/4 teaspoons Simply Organic® Cardamom, divided
3/4 cup whole milk
1 cup canned coconut milk, stirred well to include thick portion from top
1 cup heavy cream
1/2 cup + 2 tablespoons sugar
3/4 cup toasted coconut flakes, plus more for topping
1/4 teaspoon sea salt
1 Simply Organic® Madagascar Vanilla Bean, scraped, or 1 tablespoon Simply Organic® Vanilla Bean Paste
Directions
Slice 1 mango into large chunks. In a food processor, combine mango, honey, lemon juice and 1/4 teaspoon cardamom. Process until smooth, then set aside.
In a medium saucepan over low heat, combine milk, coconut milk, heavy cream, sugar, coconut flakes, salt and vanilla bean scrapings or paste. Heat, stirring constantly, until hot but not quite boiling.
Add remaining 1 teaspoon cardamom, turn off heat and allow mixture to steep for 10 minutes.
Add mango puree from step 1. Pour mixture through a fine-mesh sieve into a large bowl. Cover and refrigerate for at least 4 hours or over night, until completely cool.
Freeze in ice cream maker according to manufacturer's directions. Dice the remaining mango. Serve ice cream with a spoonful of coconut flakes and the diced mango.