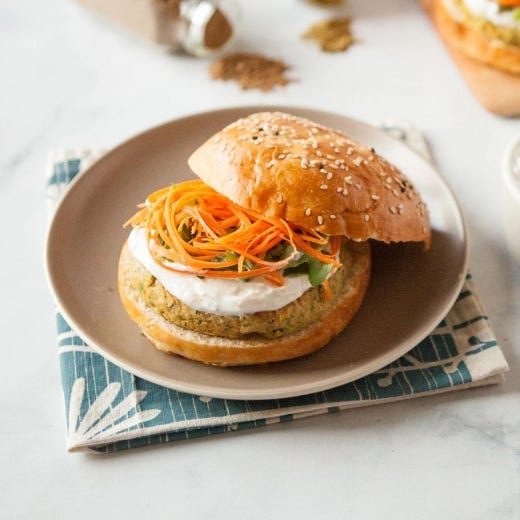 Chickpea Burgers with Coriander Yogurt Sauce
A simple, warmly spiced veggie and chickpea burger recipe with a creamy coriander-spiked yogurt sauce is the kind of effortless dinner we're all about. Pan fry and serve on your favorite bun (or atop greens for a lighter meal).
1 can (15 ounces) chickpeas, drained and rinsed
3 scallions, trimmed and coarsely chopped
1/4 cup flat-leaf parsley, coarsely chopped
1/2 teaspoon Simply Organic® Garlic Powder
2 tablespoons all-purpose flour
1 large egg
1 teaspoon+ 1 pinch sea salt or pink Himalayan salt, divided
1 teaspoon Simply Organic® Coriander, divided
1 teaspoon Simply Organic® Cumin
1/2 teaspoon Simply Organic® Paprika
2 tablespoons olive oil
1/2 cup plain Greek yogurt
1 tablespoon lemon juice
2 hamburger buns
1/2 cup arugula, for serving
1/2 cup shredded carrots, for serving
Directions
In a food processor, combine chickpeas, scallions, parsley, garlic powder, flour, egg, 1 teaspoon salt, 3/4 teaspoon coriander, cumin and paprika. Pulse, stopping a few times to scrape down the sides, until a coarse mixture that holds together when pressed forms.
Form mixture into even patties.
In a non-stick skillet over medium-high heat, heat olive oil. Add patties and cook for 3 to 4 minutes on each side, until golden brown.
In a small bowl, whisk together yogurt, lemon juice, remaining 1 pinch salt and remaining 1/4 teaspoon coriander.
Serve burgers on sliced buns with arugula, shredded carrots and a generous spoonful of yogurt sauce.