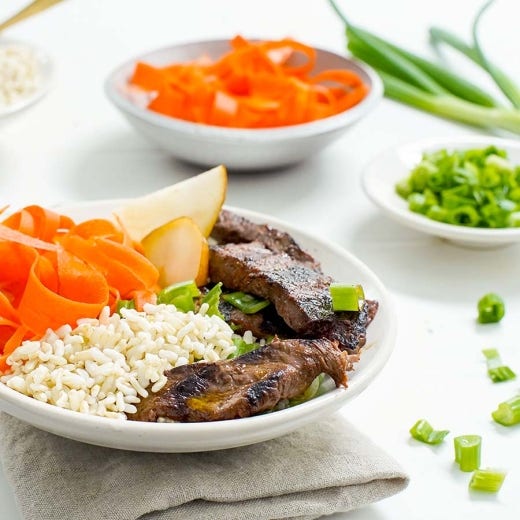 Bulgogi-Style BBQ Beef and Brown Rice Bowl
Bring Korean-inspired BBQ flare into your dinner rotation with this easy bulgogi bowl recipe. A simple marinade made with pear, gochujang, garlic powder, ginger and cayenne brings a sweet, savory and spicy Korean-style spark.
1 Asian pear, cored and quartered, divided
2 tablespoons low-sodium soy sauce, plus more for serving
1 tablespoon gochujang (hot pepper paste)
1 tablespoon honey
1 tablespoon toasted sesame oil, plus more for serving
1 teaspoon Simply Organic Garlic Powder
1 teaspoon Simply Organic Ginger
1/2 teaspoon Simply Organic Cayenne
1 pound beef sirloin steaks, thinly sliced
2 large carrots, peeled into ribbons
3 tablespoons white vinegar
1/4 teaspoon sea salt or pink Himalayan salt
2 cups cooked brown rice
4 to 5 scallions, thinly sliced
Directions
Use a box grater to shred one quarter of the pear into a large bowl. Add soy sauce, gochujang, honey, sesame oil, garlic powder, ginger and cayenne. Whisk until well blended.
Add beef and toss until thoroughly coated, then cover and refrigerate for at least 30 minutes or up to 8 hours.
In a medium-sized bowl, combine carrots, vinegar and salt. Toss to combine, then set aside for 20 to 30 minutes, tossing occasionally, until carrots have softened slightly.
Heat grill to medium-high. Brush grill grate with oil. Grill steak slices for 2 to 3 minutes on each side, until charred and cooked through.
Divide steak, rice, carrots and scallions among serving bowls. Thinly slice remaining pear quarters and divide among bowls. Serve with additional soy sauce and toasted sesame oil.
Recipe Tips:
This recipe packs significant heat, which is the style of bulgogi. To decrease the heat level, reduce the amount of cayenne to 1/4 or 1/8 teaspoon.
To cook on the stove top instead, heat a cast-iron skillet or grill pan over medium-high for 5 minutes. Add 1 teaspoon vegetable oil. Arrange half the steak slices in a single layer and cook for 1 minute without stirring. Cook for 2 to 3 more minutes, stirring and flipping, until cooked through. Repeat with 1 teaspoon oil and remaining steak slices.