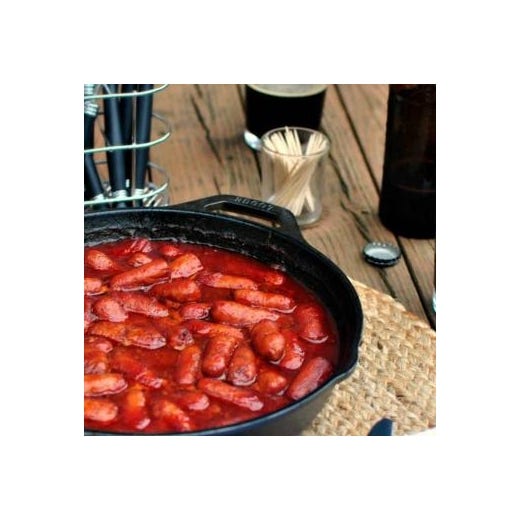 Homemade BBQ Sauce for Cocktail Sausages
Achieve the perfect balance of sweet and heat with this homemade BBQ sauce recipe — carefully crafted for cocktail sausages but a great companion for all kinds of BBQ.
1 can (15 ounces) tomato sauce
4 tablespoons dark brown sugar
4 tablespoons honey
2 tablespoons lemon juice
2 tablespoons molasses
3 teaspoons Worcestershire sauce
3 teaspoons yellow mustard
1/2 teaspoon Simply Organic® Oregano
1/2 teaspoon Simply Organic® Chili Powder
1/4 teaspoon Simply Organic® Cayenne
1 tablespoon olive oil
1 medium yellow onion, finely diced
2 cloves garlic, minced
1 1/2 pounds cocktail sausages
Directions
Preheat oven to 375 degrees.
In a medium-sized bowl, combine tomato sauce, brown sugar, honey, lemon juice, molasses, Worcestershire sauce, mustard, oregano, chili powder and cayenne. Stir until well combined and set aside.
In a large oven-safe skillet over medium heat, heat olive oil. Add onion and sauté, stirring frequently, until translucent. Add garlic and cook for 1 more minute.
Add cocktail sausages and cook for 5 minutes.
Pour sauce over sausages, stir and place skillet in oven for 30 to 40 minutes, stirring occasionally. Serve hot.
Recipe Tip:
If desired, use a crock pot or slow cooker instead of an oven. After sautéing the onion and garlic, transfer it along with the sausages and sauce into crock pot or slow cooker and cook on high for 1 hour, stirring occasionally. Reduce heat to low and serve.