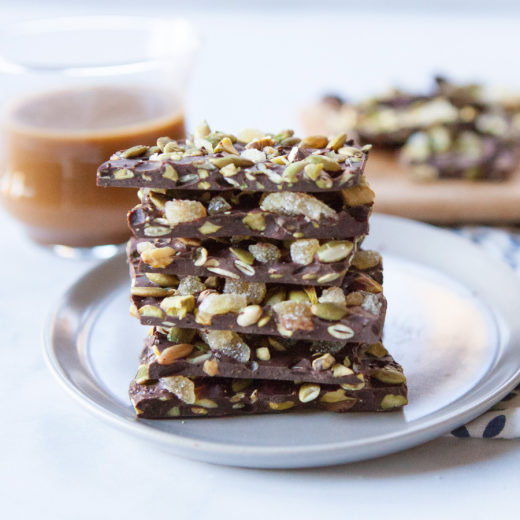 Aztec Chocolate Bark with Ancho Chili
The most satisfying combination of spicy and sweet comes together with this new world chocolate bark featuring ancho red chilies and bittersweet chocolate pieces, all topped with toasted pistachios and candied ginger. This Aztec chocolate bark is packing the heat!
Directions
In a skillet over medium heat, toast pepitas for 4 to 5 minutes, until fragrant and just beginning to pop. Transfer to plate and let cool.
In a small saucepan over very low heat, melt chocolate, stirring often to avoid burning. Once melted, fold in Ancho chili powder, clove, cinnamon, cayenne, ½ cup pistachios and ½ cup toasted pepitas.
Pour chocolate mixture onto a baking sheet lined with parchment paper and spread into an even layer. Sprinkle remaining pepitas, pistachios and candied ginger on top. Lightly press into the chocolate, then refrigerate for 45 minutes to 1 hour or freeze for 10 to 15 minutes.
Once cool, break into pieces and enjoy immediately or refrigerate for up to 3 days.