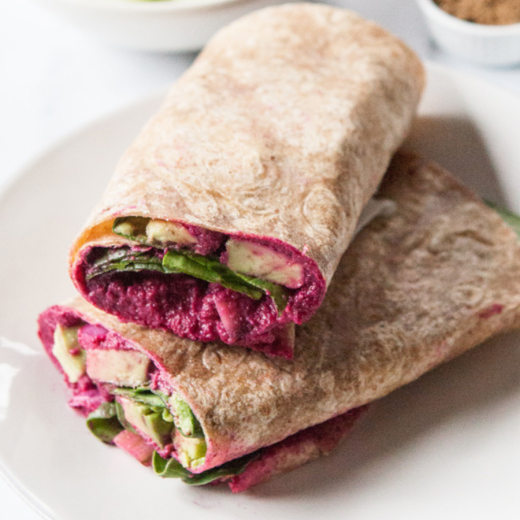 Avocado and Beet Hummus Wraps
A vibrant take on a classic vegetarian favorite, this avocado and beet hummus wrap recipe is packed with spinach, avocado, cucumber and a delicious beet hummus spiced with garlic powder, coriander and black pepper.
2 medium beets, trimmed and scrubbed
2 tablespoons olive oil, divided
3 tablespoons tahini paste
2 tablespoons fresh lemon juice
1/4 cup plain Greek yogurt
1/4 teaspoon Simply Organic® Garlic Powder
1/4 teaspoon Simply Organic® Coriander
1 pinch sea salt or pink Himalayan salt
1 pinch Simply Organic® Black Pepper
4 large flour tortillas
1 1/2 tablespoons red onion, minced
1/2 large cucumber, sliced into 1⁄2-inch-thick matchsticks
1 cup spinach, chopped
2 large ripe avocados, thinly sliced
Directions
Preheat oven to 375 degrees.
On a large sheet of aluminum foil, place beets. Drizzle with 1 tablespoon olive oil and fold foil edges over to create a pouch that completely encloses beets. Lay pouch in a small baking dish and roast for about 1 hour, until tender. Let beets cool, then peel and discard peels.
Slice cooled beets into wedges and transfer to a food processor. Add remaining 1 tablespoon olive oil, tahini, lemon juice, yogurt, garlic powder, coriander, salt and pepper. Pulse until well blended.
On the bottom half of each tortilla, spread about 1/3 cup beet hummus. Divide red onion, cucumber, spinach and avocado among wraps. Fold in bottom end of each tortilla and roll around the filling.