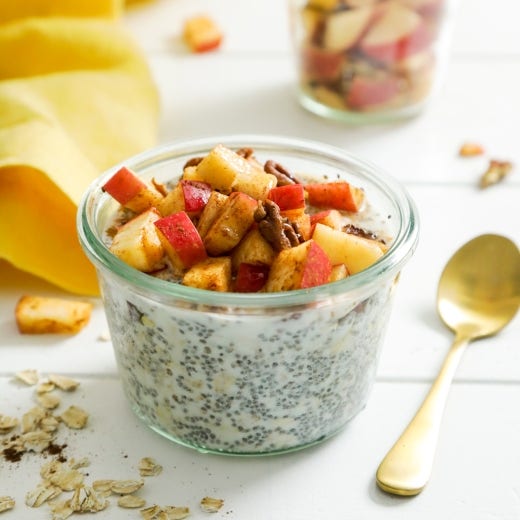 Create a satisfying ready-to-go breakfast for a quick, wholesome start to your day with this apple-pie-inspired overnight oats recipe featuring fresh chopped apple, walnuts and the warm flavors of cinnamon and allspice.
For the Overnight Oats:
1 cup unsweetened almond milk
1/2 cup old-fashioned rolled oats
1 ½ tablespoons chia seeds
1 tablespoon maple syrup
1/4 teaspoon Simply Organic® Ground Allspice
1/8 teaspoon Simply Organic® Cinnamon
1/4 teaspoon Simply Organic® Pure Madagascar Vanilla Extract
1 pinch salt
For the Topping:
1 small-to-medium apple, chopped (a sweet variety is preferable)
¼ - ½ teaspoon Simply Organic® Cinnamon
3 tablespoons chopped walnuts
Directions
Into a lidded jar, add almond milk, oats, chia seeds, maple syrup, allspice, cinnamon, vanilla and salt. Stir or whisk to combine ingredients and evenly distribute chia seeds throughout mixture. Seal jar and refrigerate for 2 to 3 hours until thick, or overnight.
In a small storage jar, combine chopped apple and cinnamon. Add as much cinnamon as needed to lightly coat apples. The cinnamon will prevent the apples from browning.
Add walnuts and stir to combine. Tightly close jar.
Refrigerate apple and walnut mixture until oats are ready.
To serve, top oats with apple and walnut mixture. Enjoy chilled.
RECIPE TIPS
Use your favorite milk in this recipe — dairy milk, cashew milk, almond milk, or coconut milk. If your milk is sweetened, skip or reduce the amount of maple syrup called for in the recipe.
Double the recipe to make multiple jars, and store in the refrigerator for up to 3 days. For thicker overnight oats, use 2 tablespoons of chia seeds.