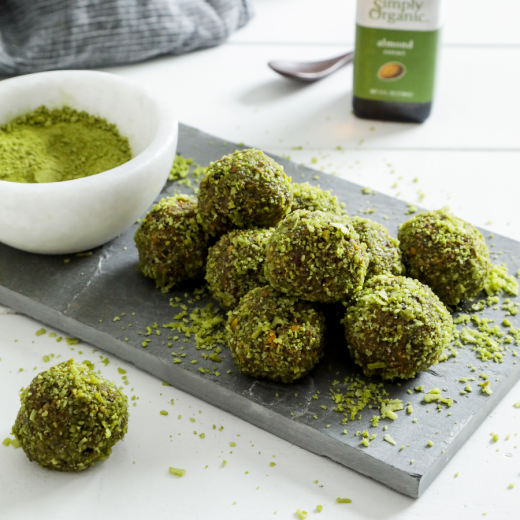 Almond Matcha Energy Bites with Chia Seeds
These super-green almond matcha energy bites are power-packed with nutrients, flavor and lush, beautiful color. Featuring chia seeds, coconut, a rich medjool date base that pulls it all together, and organic almond extract that really makes the flavor shine.
Directions
In a food processor, place pistachios and dates. Pulse until finely chopped.
Add coconut oil and 1/2 tablespoon matcha powder. Pulse until combined.
Remove processor blade and stir in chia seeds and almond extract.
Roll mixture by heaping tablespoons into golf-size balls and place on a sheet of parchment or waxed paper.
In a spice grinder (or your food processor if it can process small quantities), add coconut flakes and 1/2 teaspoon matcha powder. Pulse until well blended and transfer to a shallow bowl.
Roll bites in matcha-coconut mixture, and enjoy!
Store energy bites in refrigerator for up to 2 weeks.