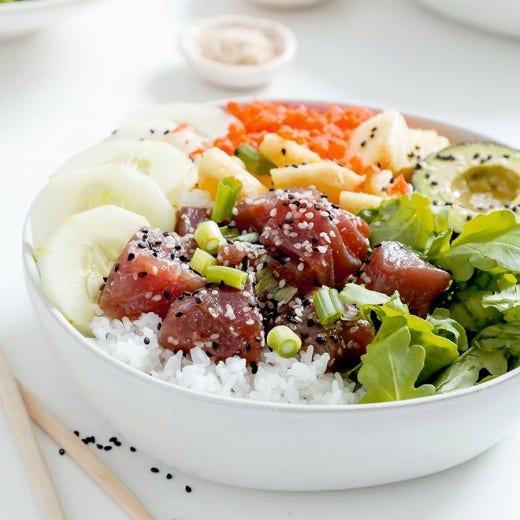 Ahi Tuna Poke Bowl with Black Sesame
A simple Asian-inspired marinade with black sesame seeds enlivens this ahi tuna poke bowl recipe that's packed with fresh vegetables and luscious pineapple.
1/4 cup sesame oil
1/4 cup low-sodium soy sauce
2 teaspoons rice vinegar
Juice of 1/2 lime
1 teaspoon Simply Organic® Garlic Powder
1/2 teaspoon Simply Organic® Ground Ginger
1/4 teaspoon Simply Organic® Crushed Red Pepper
1 pound sushi grade ahi tuna, diced into 1-inch pieces
1 teaspoon Simply Organic® Sesame Seed, plus more for garnish
1/2 teaspoon Simply Organic® Black Sesame Seed, plus more for garnish
4 cups steamed rice (jasmine or brown rice) or quinoa
2 cups greens, chopped
2 avocados, halved, peeled, pitted and sliced
1 cucumber, peeled and sliced
1/2 cup shredded carrot
1 cup fresh pineapple, cut into chunks
4 scallions, thinly sliced, for garnish
Fresh cilantro, for garnish
Sriracha sauce, for garnish
Lime wedges, for garnish
Directions
In a medium-sized bowl, combine sesame oil, soy sauce, rice vinegar, lime juice, garlic powder, ginger and crushed red pepper. Whisk until well blended.
Add ahi tuna and toss until evenly coated. Cover and refrigerate for 10 to 30 minutes. Add sesame and black sesame seed.
Divide rice or quinoa, greens, avocado, cucumber, carrot, pineapple and ahi tuna among bowls (this recipe makes 4 bowls). Garnish with scallions, sesame seed, cilantro, sriracha sauce and a squeeze of lime.