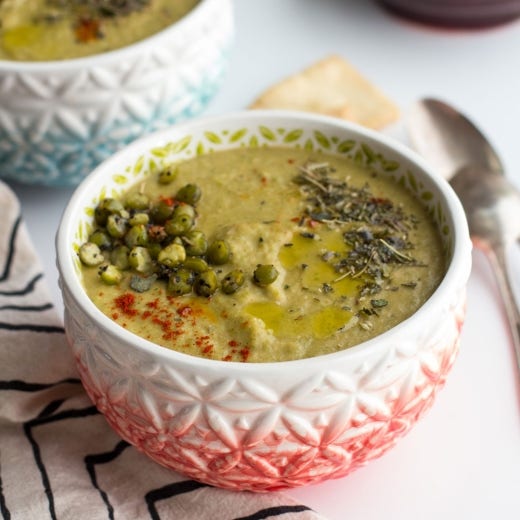 Herbes de Provence gives this savory split pea soup recipe a charmingly French flavor. A touch of smoked paprika packs just the right punch.
1 teaspoon olive oil, plus more for garnish
1 large onion, finely chopped
2 carrots, finely chopped
2 cloves garlic, minced or grated
Sea salt or Himalayan pink salt, to taste
2 cups dried split green peas, picked over and rinsed
2 teaspoons Simply Organic® Herbes de Provence
1 teaspoon Simply Organic® Smoked Paprika
1/4 teaspoon Simply Organic® Black Pepper, plus more to taste
5 cups water or vegetable broth, plus more to achieve desired consistency
1/2 lemon, juiced
1/4 cup pine nuts
Directions
In a large pot over medium-high heat, heat olive oil. Stir in onion, carrots, garlic and a pinch of salt. Cook for about 5 minutes, until onion is translucent. Add split peas, Herbes de Provence, smoked paprika, pepper and water.
Bring to a boil, reduce to a simmer and let cook for 20 minutes, until peas are cooked through. Using a slotted spoon, remove about 1/3 cup of the cooked peas and set aside.
Using a hand blender or regular blender, puree soup. Add more water or broth if needed to achieve desired consistency. Stir in lemon juice and season with additional salt and pepper, to taste.
In a skillet over medium-low heat, combine reserved peas, pine nuts and a pinch of salt. Toast for about 3 to 5 minutes, taking care not to burn.
Ladle soup into bowls. Serve drizzled with olive oil, a pinch of Herbes de Provence, a pinch of smoked paprika, a touch of lemon zest, and the toasted peas and pine nuts.