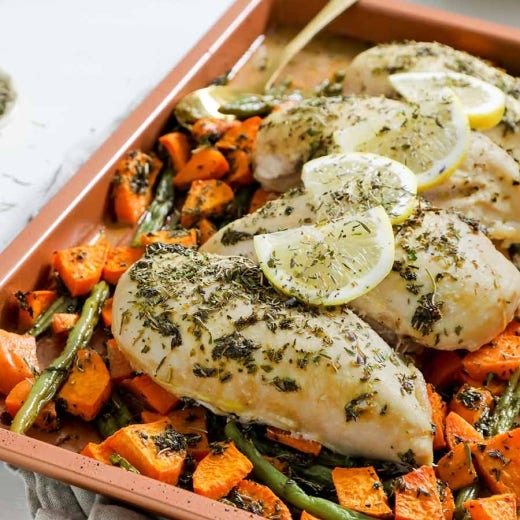 Herbes de Provence Sheet Pan Chicken and Sweet Potatoes
This sheet pan recipe brings a depth of savory, south-of-France flavor to chicken, sweet potatoes and haricots verts with aromatic Herbes de Provence. C'est délicieux!
1/3 cup low-sodium chicken broth
1/4 cup organic butter, melted
3 tablespoons Simply Organic® Herbes de Provence
2 teaspoons Simply Organic® Garlic Powder
1/2 teaspoon sea or Himalayan pink salt
1/4 teaspoon Simply Organic® Black Pepper
1 large orange, sliced
1 large lemon, sliced
1 large onion, sliced
4 boneless, skinless chicken breasts (about 5 ounces each)
2 large sweet potatoes, peeled and diced
1 pound fresh green beans, stemmed and de-stringed
Directions
Preheat oven to 400 degrees. Lightly coat a baking sheet with oil.
In a bowl, combine broth, melted butter, herbes de Provence, garlic powder, salt, and pepper. Mix until well combined.
Place orange, lemon and onion slices on sheet pan and lay chicken breasts over top.
In a separate bowl, combine sweet potatoes and green beans. Add half the broth mixture and toss to coat. Spread on sheet pan around chicken.
Pour remaining broth mixture over chicken and coat well.
Bake for 25 to 30 minutes, or until chicken is cooked through and potatoes are tender.
Switch oven to broil, and broil for 2 to 3 minutes, until potatoes and chicken are crispy.
Remove and serve with juice from sheet pan spooned over top.
RECIPE TIP
You may substitute baby Yukon Gold potatoes or another white potato for the sweet potatoes, and any in-season vegetable of your choice for the green beans, using the same baking and broiling times.