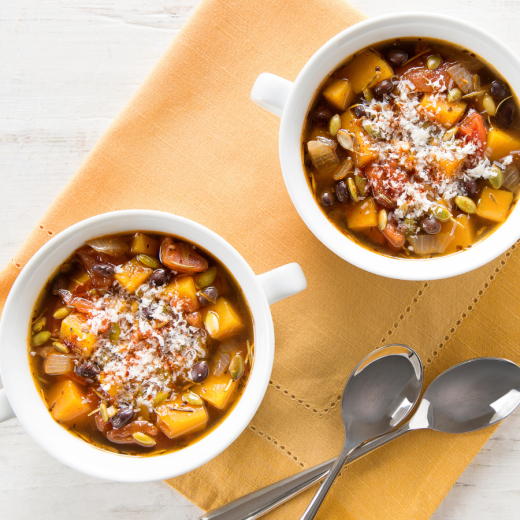 Hearty Pumpkin Black Bean Soup
Well seasoned with savory herbs and spicy chili powder, this hearty black bean pumpkin soup recipe will quickly become a cold-weather favorite.
3 tablespoons butter
1 small white onion, diced
1 teaspoon sea salt, divided
1 pumpkin (3 1/2 pounds), seeded, peeled and diced
1 cup fresh baby spinach
3 cans (15 ounces each) black beans, drained
1 can (16 ounces) diced tomatoes
3 cloves garlic, minced
4 cups vegetable broth
1/2 teaspoon Simply Organic® Chili Powder
1/4 teaspoon Simply Organic® Cayenne
1/2 teaspoon Simply Organic® Sage
1 teaspoon Simply Organic® Thyme
1 teaspoon Simply Organic® Rosemary
1/2 teaspoon Simply Organic® Black Pepper
2 tablespoons pumpkin seeds, for garnish
Parmesan cheese, for garnish
Directions
In a large pot, melt butter. Add onions and 1/4 teaspoon salt. Sauté for 3 to 4 minutes, stirring frequently, until onions are translucent.
Add pumpkin, spinach, black beans, tomatoes, garlic, vegetable broth, chili powder, cayenne, sage, thyme, rosemary, pepper and remaining 3/4 teaspoon salt. Bring to a simmer and cook for about 20 minutes, until pumpkin is tender.
Remove from heat. Sprinkle with pumpkin seeds and Parmesan cheese. Serve warm.
Recipe Tip:
If available, use a cooking-variety pumpkin such as a sugar or pie pumpkin.