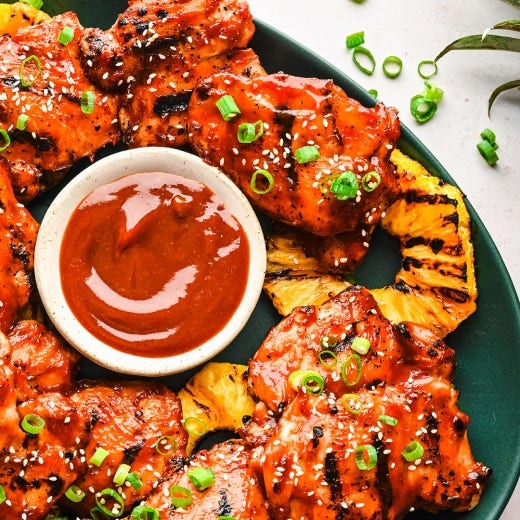 Hawaiian-Style BBQ Chicken
This grilled Hawaiian chicken recipe features a luscious, one-of-a-kind Madagascar Vanilla Barbecue Sauce you'll want to treat friends and family to all summer long.
Directions
Preheat grill to 400 degrees. Season chicken with salt and pepper on both sides
In a medium bowl, combine all ingredients for the barbecue sauce and whisk until smooth. Set aside.
Place chicken thighs on grill over direct heat and sear for 3 to 4 minutes on each side.
Move chicken to indirect heat on grill. Brush one side with barbecue sauce, close grill and let cook for another 8 minutes. Flip chicken, brush other side with barbecue sauce and continue cooking until internal temperature reaches 165 degrees. OPTIONAL: continue basting chicken with additional barbecue sauce as it cooks, or save remaining sauce for serving. (If serving remaining sauce, be sure to heat it thoroughly to prevent potential bacteria development from the brush being in contact with the chicken.)
Meanwhile, place pineapple rings over direct heat and grill for 3 to 5 minutes on each side, until lightly charred.
Serve grilled chicken and pineapple garnished with green onions or cilantro and sesame seeds if desired.