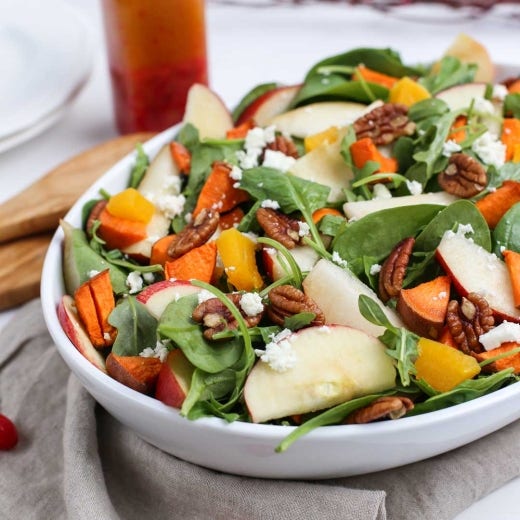 Harvest Salad With Cinnamon Cranberry Vinaigrette
This fresh, hearty organic harvest salad recipe includes sweet potatoes, butternut squash and pears all topped off with a sweet cinnamon cranberry vinaigrette.
For the Salad:
2 cups sweet potatoes, scrubbed and chopped (peeled, if desired)
1 butternut squash, peeled and chopped (about 2 1⁄2 cups)
1 pinch sea or Himalayan pink salt
2 tablespoons olive oil
7-8 cups packed baby spinach (or a baby spinach and arugula combo, if desired)
1 cup apple slices (any mild, sweet variety)
1 cup pear slices (any variety)
1/2 cup toasted pecans (*see directions for toasting)
1/2 cup feta cheese
For the Dressing:
1/2 cup olive oil
1/3 cup cranberries, fresh or frozen (if frozen, defrost until soft)
3 tablespoons apple cider vinegar
1 tablespoon honey
1/2 teaspoon Simply Organic® Cinnamon
1 pinch salt
Directions
To Toast the Pecans:
Preheat oven to 350 degrees.
In a greased oven-safe skillet, scatter pecans in a single layer.
Bake pecans for 15 minutes until well toasted and fragrant, checking and turning them after about 7 minutes, Allow to cool before adding to salad.
To Make the Salad:
Preheat oven to 425 degrees.
On a greased baking sheet, place sweet potatoes and butternut squash, then sprinkle with salt and toss with olive oil.
Roast sweet potatoes and squash for 20 to 30 minutes, until soft with slightly crispy corners.
Remove from oven and allow to cool.
In a large salad bowl, gently combine sweet potatoes, butternut squash, salt, olive oil, baby spinach, pecans, apple slices, pear slices and feta, being careful not to bruise the pears.
To Make the Dressing:
In a high-speed blender, combine olive oil, cranberries, apple cider vinegar, honey, cinnamon and salt, and pulse for about 60 seconds, until mixture is creamy and smooth.
Pour over salad until lightly dressed, and serve.
RECIPE TIPS
For a savory-sweet flavor, substitute Gorgonzola cheese for the feta. Substitute red or white wine vinegar for the apple cider vinegar, if desired.
Store any leftover dressing in an air-tight container in the refrigerator for up to 7 days.