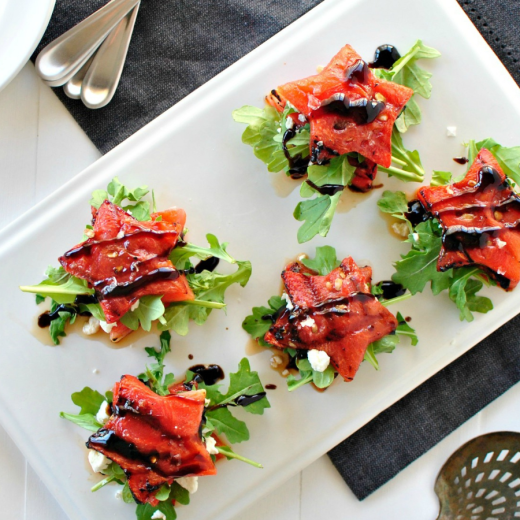 Grilled Watermelon "Caprese" Salad with Cardamom Balsamic Reduction
Watermelon with a cardamom-spiced reduction puts a sweet spin on a classic.
1/4 cup balsamic vinegar
1 teaspoon Simply Organic Ground Cardamom
1/2 (5-pound) seedless watermelon (use both red and yellow seedless watermelon for extra color)
Extra-virgin olive oil
Fleur de sel (or any good, flake salt)
2 cups baby arugula, washed and dried
1 cup crumbled goat cheese
1 pinch Simply Organic Black Pepper
Directions
Preheat your grill. Real wood charcoal tastes best, but gas works fine. Avoid instant-light briquettes as they make food taste like lighter fluid. Aim for medium-high heat – if your grill lid has a thermometer built into the lid, it should read about 375 degrees.
Place the vinegar and cardamom in a small saucepan and simmer (on the stovetop) to reduce to a syrup, roughly 20 minutes. Do not allow to burn. When it is about the texture of warm maple syrup, remove from the heat and strain through fine mesh or cheesecloth into a heatproof bowl. Use caution, it can stick to your hands and burn you.
Meanwhile, slice the watermelon into squares, without the rind, about 3x3 inches and 3/4 inch thick. Brush them lightly with the olive oil.
Grill watermelon about 2 minutes per side, or until it is marked nicely. Remove and season with the salt.
Arrange on a plate, alternating layers of watermelon, then arugula, then cheese, then repeat for a three-layer "stack" on each plate. Alternatively, arrange all stacks on a serving platter.
Drizzle with the balsamic reduction, sprinkle to taste with ground black pepper and serve immediately.
Recipe Tips:
Optional Substitute: Thin slices of fresh buffalo milk mozzarella for the goat cheese.
For a little more flair, cut the watermelon into shapes with a cookie cutter.