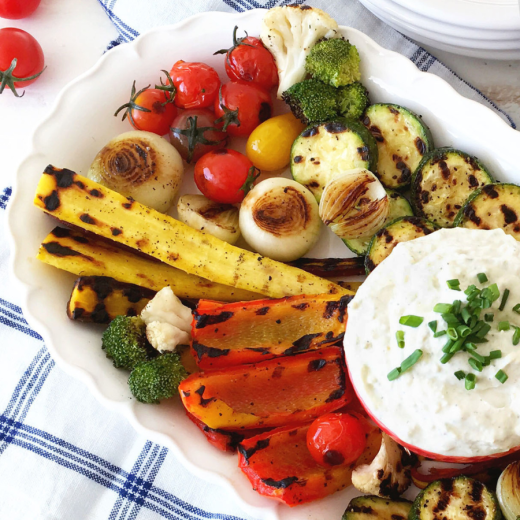 Grilled Vegetables with Onion Chive Dip
Dive into this easy-to-make grilled vegetable recipe that highlights seasonal vegetables and delightfully fresh, creamy onion chive dip.

1 cup light sour cream
1 cup non-fat plain Greek yogurt
1 package Simply Organic Onion Chive Dip
1 medium zucchini, cut into 1/2-inch-thick rounds
1/2 head cauliflower, chopped into florets
2 heads broccoli, chopped into florets
1 large bell pepper (red, yellow, orange or green), cut into 1-inch strips
1 pint cherry tomatoes
3 rainbow carrots, peeled and sliced lengthwise
6 globe onions, peeled
1/3 cup extra-virgin olive oil
1 tablespoon chives, chopped, for garnish
Directions
In a medium-size bowl, combine sour cream and yogurt. Stir until well combined, then fold in the contents of the seasoning packet. Transfer to a serving bowl and chill in refrigerator for 30 minutes.
While dip is chilling, heat grill to medium-high or heat a grill pan on a stovetop over medium-high.
Arrange prepared vegetables on grill or pan, lightly brush with 1/3 cup olive oil, pepper and garlic salt. Grill in 2 batches, turning occasionally, for about 7 to 10 minutes per batch, until lightly charred and crisp-tender.
Top the chilled dip with chives, arrange with vegetables on a serving plate and dive in!
Recipe Tip:
If you're feeling creative, grill up a variety of your own favorite vegetables. For an even more delicious dip, caramelize 2 peeled and thinly sliced shallots in a sauté pan with 1 tablespoons olive oil, stirring occasionally over medium heat for 15 minutes. Cool, then fold shallots into dip before chilling in refrigerator.