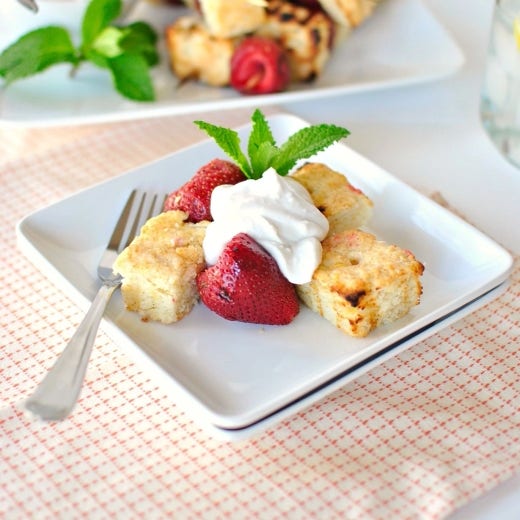 Grilled Lemon Strawberry Shortcake Kabobs with Coconut Cream
Coconut cream completes this sweet, shortcake-centric twist on kabobs.
FOR THE PAN:
8 tablespoons butter, melted (or substitute grapeseed oil)
FOR THE SHORTCAKE:
2 cups all-purpose flour
1/4 cup granulated sugar
1 tablespoon lemon zest
2 tablespoons baking powder
1/2 teaspoon baking soda
1/4 teaspoon salt
1/4 cup unsalted butter (or vegan equivalent)
3/4 cup buttermilk (use almond milk for a vegan version)
1 tablespoon Simply Organic® Lemon Flavor
FOR THE COCONUT CREAM:
1 can (15-oz) organic coconut cream, cold
2-3 tablespoons powdered sugar
1/2 teaspoon Simply Organic® Pure Madagascar Vanilla Extract
2 tablespoons dark rum (optional)
FOR THE SKEWERS:
4-5 metal or bamboo skewers
1 quart fresh strawberries, hulled and washed
Directions
Preheat oven to 400 degrees. Grease a 10x10-inch casserole with butter. Set aside.
In a large bowl, combine flour, sugar, lemon zest, baking powder, baking soda and salt. With pastry blender or two forks, cut in butter until mixture is size of coarse crumbs.
Gently stir in buttermilk and lemon flavor just until mixture forms a soft dough, then gently pat into prepared pan. Bake in preheated oven 20 minutes or until golden and toothpick inserted in center comes out clean. Invert onto a wire rack to cool completely.
Meanwhile, make the coconut cream. Invert the can and open from the bottom. Drain off the liquid that has accumulated there and reserve the solid.
Place the coconut milk in a mixing bowl and whip until smooth. Add powdered sugar, vanilla and rum, then whip up a little further, to desired consistency. Refrigerate until ready to serve.
Preheat your grill for the kabobs. Real wood charcoal tastes best, but gas works fine. Avoid instant-light briquettes as they make food taste like lighter fluid. Aim for medium-high heat – if your grill lid has a thermometer, it should read about 375 degrees.
Meanwhile, cut shortcake into 2-inch cubes. Add shortcake cubes onto the skewers, alternating with the berries, until all are used.
Brush each side lightly with butter. Place on grill and allow to char just a little, about 2 minutes per side. Remove and serve immediately with coconut cream on the side, for dipping.
Recipe Tip:
If using bamboo skewers, soak them in water for 1 hour before use to keep them from burning on the grill.
Reserve the liquid drained off the coconut milk for another use, such as an addition to a smoothie.