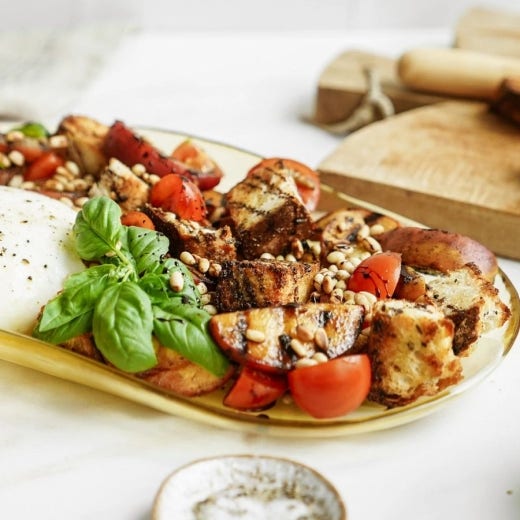 You're going to love this simply unique, savory-sweet summer peach bread salad with tomatoes and burrata cheese. Excellently seasoned with the right organic spices that make it all come together.
¼ cup pine nuts, toasted
¼ cup chopped fresh basil
½ cup fresh cherry tomatoes, halved
1 tablespoon Simply Organic® Cinnamon
1 tablespoon Simply Organic® Onion Powder
1 tablespoon Simply Organic® Garlic Powder
1 pinch Simply Organic® Black Pepper
2 heaping cups bread of choice, cut into large chunks
2 tablespoons balsamic vinegar
3 large peaches, cut into 8 to 10 wedges each
5 tablespoons olive oil, divided
8 ounces burrata cheese
1 pinch sea or Himalayan pink salt
Directions
Preheat oven to 400 degrees. Line a baking tray with parchment paper and set aside.
In a large mixing bowl, combine bread, 3 tablespoons olive oil, and garlic and onion powders. Mix well to coat most of each chunk of bread. Place on prepared baking tray and bake for 10 to 15 minutes, checking often to avoid burning, flipping each piece about halfway through.
Meanwhile, into the same mixing bowl add peaches, remaining 2 tablespoons olive oil, salt, pepper and cinnamon; toss until completely coated.
Heat a large cast iron grill on high until smoking and cook peaches for 2 minutes on each side. Cook half at a time if grill doesn't allow for turning space for all the wedges.
On a serving platter, add burrata and grilled peaches, then add croutons, tomatoes, pine nuts and basil, sprinkle with more cinnamon and balsamic vinegar, and serve.
Recipe Tip
Toast pine nuts in a skillet over medium heat for about 3 minutes, shaking or stirring periodically to avoid burning.