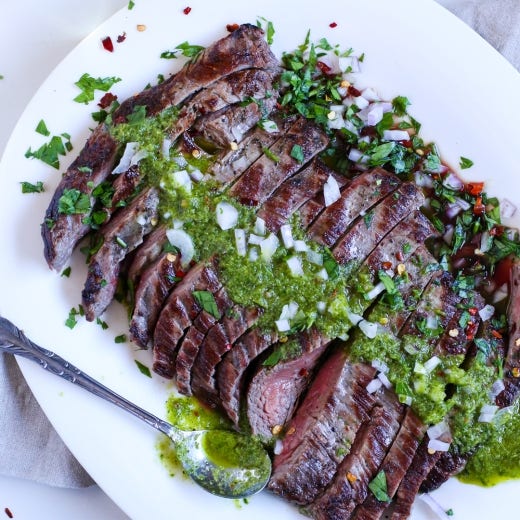 Grilled Flank Steak with Chimichurri Sauce
Dress up grilled flank steak with an easy summer chimichurri sauce featuring fresh herbs and vibrant organic spices.
FOR THE STEAK:
1/4 cup olive oil
2 limes, juiced (or lemon)
1/2 teaspoon salt
1/4 teaspoon Simply Organic® Black Pepper
2 pounds flank steak
FOR THE CHIMICHURRI SAUCE:
1 1/2 teaspoons Simply Organic® Garlic Powder
1/2 teaspoon Simply Organic® Crushed Red Peppers
1 cup fresh parsley leaves (some stems are okay)
1/3 cup fresh cilantro leaves (some stems are okay)
3/4 cup olive oil
1/4 cup red wine vinegar (white wine vinegar will also work)
3 tablespoons red onion, chopped
1/2 teaspoon salt
Directions
Whisk together the olive oil, lime juice, salt and pepper for a marinade.
In a blender, combine remaining ingredients to make chimichurri sauce. Pulse for 30 to 40 seconds, until thick and smooth. Set aside.
Heat the grill and brush with a small amount of oil if sticking is a concern. Once hot, place the steak on the grill. Cook the steak for 5 to 7 minutes on each side.
Serve with chimichurri sauce and additional chopped cilantro and chopped red onions, if desired.
It's important not to overcook the flank steak. This steak is best served medium to medium-rare.This dish is perfect served in warm corn tortillas. Store extra sauce in the fridge.
Recipe Tips:
Score the steak with about 6 slits (against the grain). Pour the marinade over the steak. Allow the steak to marinate for at least thirty minutes. If longer, marinate in the fridge.