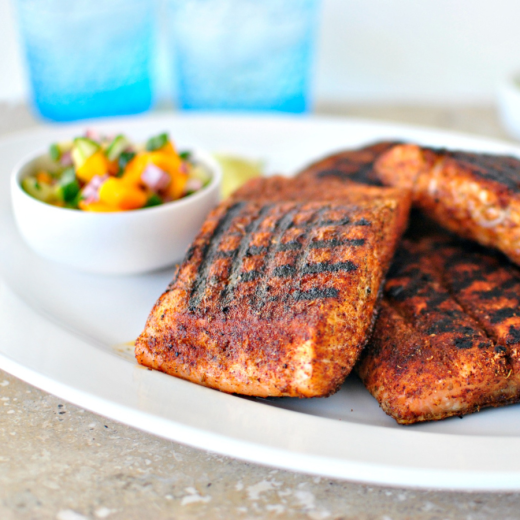 Grilled Chili Rubbed Salmon with Cucumber Mango Salsa
Salmon spruced up with a hot organic chili rub and cool cucumber mango salsa.
Directions
Remove the salmon from the fridge and let it come to room temperature on the counter for about 30 minutes.
In a small bowl, combine mango, cucumber, onion, lime juice, cilantro and 1/2 teaspoon salt. Refrigerate until use.
In a small bowl, combine the chili powder, cumin, sea salt, oregano, garlic powder and onion powder.
Lightly spray both sides of the salmon fillets with olive oil.
Divide and rub the spice mixture over each piece of salmon, coating all sides. Shake off any excess spice into the bowl and lightly spray the fish again with olive oil.
Clean your grill grates and wipe them with a little olive oil on a paper towel. Preheat your grill. Real wood charcoal tastes best, but gas works fine. Avoid instant-light briquettes as they make food taste like lighter fluid. Aim for medium-high heat – if your grill lid has a thermometer built into the lid, it should read about 375 degrees.
Once hot, lay the salmon skin-side down onto the grill. Cook for 6 minutes, rotating the fish at the 3-minute mark for perfect grill marks.
Carefully flip the fish and cook for 6 minutes more or until fully cooked, again rotating at the 3-minute mark.
Once fully cooked, remove to a platter and serve with a squeeze of a lime wedge and spoonful of cucumber mango salsa on top.
Recipe Tip:
Start with clean grill grates and wipe them with olive oil on a paper towel before preheating the grill. This will help prevent sticking when you flip the salmon.