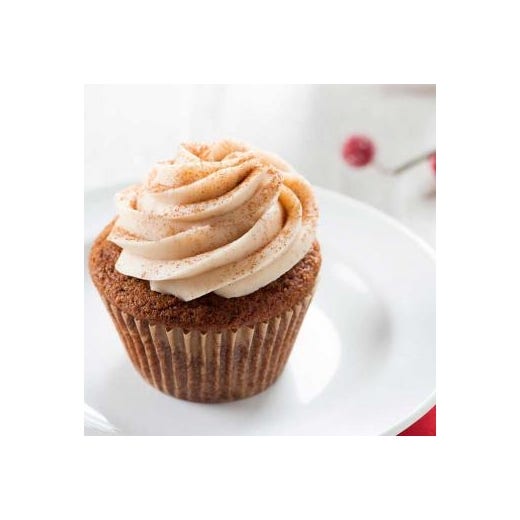 Gingerbread Cupcakes with Vanilla Cream Cheese Frosting
Bring all the sweetest flavors together in this organic gingerbread cupcakes recipe — topped with vanilla cream cheese frosting and a sprinkle of cinnamon for irresistible goodness.
Makes 12 cupcakes or 24 mini cupcakes.
FOR THE CUPCAKES:
1 3/4 cups all-purpose flour
1 teaspoon baking soda
2 teaspoons Simply Organic® Cinnamon
2 teaspoons Simply Organic® Ground Ginger
1/4 teaspoon Simply Organic® Ground Cloves
1/4 teaspoon Simply Organic® Nutmeg
1/8 teaspoon sea salt
8 tablespoons unsalted butter, melted
1/2 cup packed dark brown sugar
1/2 cup molasses
1 large egg
1/2 cup milk, divided
FOR THE FROSTING:
6 tablespoons unsalted butter, warmed to room temperature
8 ounces cream cheese, softened
4 cups powdered sugar
2 teaspoons Simply Organic® Cinnamon
1 teaspoon Simply Organic® Pure Vanilla Extract
1 to 2 tablespoons milk
Directions
To Make the Cupcakes:
Preheat oven to 350 degrees. Line a muffin pan with baking cups.
Combine flour, baking soda, cinnamon, ginger, cloves, nutmeg and salt.
In a separate bowl, whisk together melted butter, brown sugar, molasses and egg.
Add 1/4 cup milk and half the dry ingredients mixture to the wet ingredients mixture. Add remaining dry ingredients and remaining milk. Mix until well combined.
Pour batter into baking cups. Bake for 20 to 22 minutes, until an inserted toothpick comes out clean. Remove cupcakes from oven and cool on a rack for at least 30 minutes.
To Make the Frosting:
In a small mixing bowl, beat butter and cream cheese until light and fluffy.
Add powdered sugar, cinnamon and vanilla.
Add milk, a tablespoon at a time, until the frosting is just spreadable (take care not to add too much milk). If the frosting is warm, cover and place in the refrigerator for a few minutes before frosting the cupcakes.
Once the cupcakes are completely cooled, fill a piping bag with frosting and pipe large swirls onto the tops of each cupcake. Lightly sprinkle cinnamon on top of frosting for decoration.