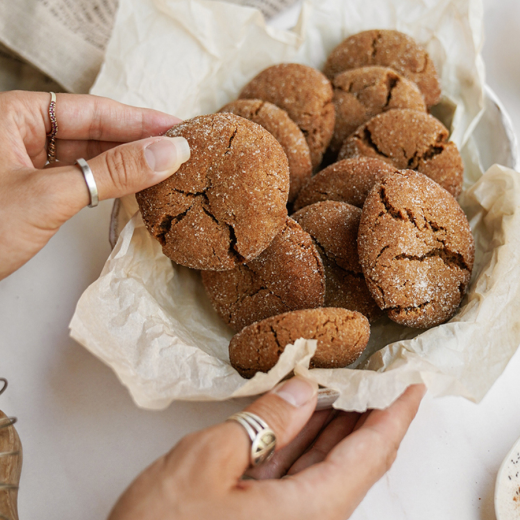 Ginger Snap Crinkle Cookies
We may have been a little influenced by nostalgia, but we think you'll understand with this ginger snap cookie recipe. Expertly spiced with our organic cinnamon, ginger and cloves, smoothed with molasses and a touch of our pure Madagascar vanilla extract, these crispy-edged crinkle cookies will not disappoint.
1 tablespoon + 1 teaspoon Simply Organic® Cinnamon, divided
½ cup + 1 tablespoon cane sugar, divided
1 cup all-purpose flour
1 teaspoon baking soda
½ tablespoon Simply Organic® Ginger
½ teaspoon Simply Organic® Ground Cloves
½ teaspoon sea or Himalayan pink salt
6 tablespoons butter, softened
1 small egg
1 teaspoon Simply Organic® Pure Madagascar Vanilla Extract
2 tablespoons molasses
Directions
Preheat oven to 350 degrees. Line two baking sheets with parchment paper and set aside.
Into a small bowl, combine the 1 tablespoon cinnamon and 1 tablespoon sugar. Set aside.
Into a large mixing bowl, sift together flour, baking soda, ginger, cloves and salt. Set aside.
In another large bowl, cream together butter and the ½ cup sugar. Beat in egg, vanilla and molasses.
Sift half the dry mixture into wet ingredients and beat until combined. Add remaining dry ingredients and blend well.
Roll dough into small balls, then roll into cinnamon sugar. If dough seems too wet to roll, chill for 20 to 30 minutes.
Place about 2 inches apart on prepared baking sheets and bake for 12 to 15 minutes.
Cool completely on baking rack, and enjoy!