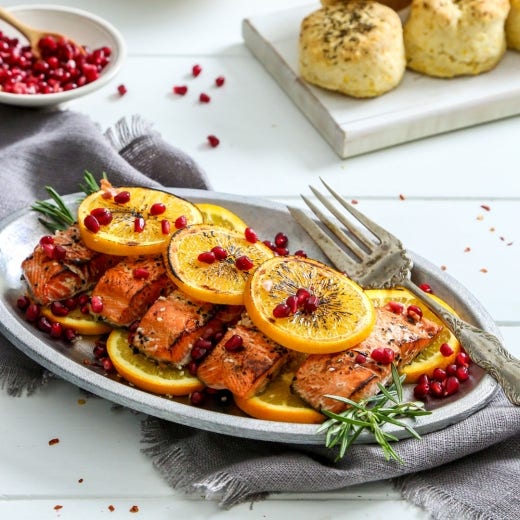 Ginger Orange Salmon with Pomegranate Seeds
Baked salmon gets big flavor with roasted orange slices, pomegranate seeds and organic spices.
Directions
Preheat oven to 400 degrees.
In a small bowl, whisk together oil, orange juice and honey. Generously brush mixture onto salmon fillets.
In another small bowl, whisk together dried spices and sprinkle over salmon.
Place 1 orange slice on top of each fillet. Brush orange slices with remaining oil and orange juice mixture, then bake for 12 minutes. Turn oven off and turn broiler on low. Broil salmon for 3­ to 4 minutes, until tops of oranges and salmon are caramelized.
Garnish with pomegranate seeds and serve hot.
RECIPE TIPS
Cooking time will vary depending on the thickness of the salmon and how close your salmon is to the broiler.
To have the spice mixture ready to go when you need it, prepare it ahead of time and store in an air-tight jar at room temperature. It can also be used on other varieties of fish.
To save clean-up time, cover baking sheet with parchment paper before adding salmon.