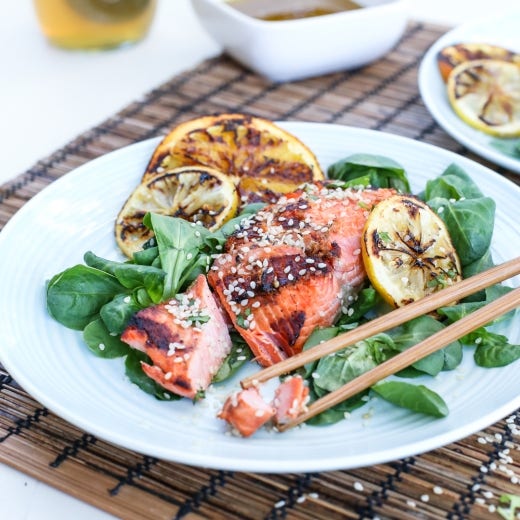 Ginger Miso Glazed Grilled Salmon
It's easy to dress up grilled salmon with these fresh, Asian-inspired flavors including white miso, ginger, garlic and sesame.
Directions
In a small bowl, whisk olive oil, miso, lemon juice, ginger, garlic powder and sesame seeds until well combined. Reserve a third of the glaze for grilling. Marinate salmon fillets in remaining glaze (face down if using a shallow dish) for 30 minutes. Discard marinade.
Heat the grill and brush with oil if sticking is a concern.
Once hot, place salmon fillets skin-side down on grill. Cook, covered, for 15 minutes (for 1 to 1 1⁄2 inch thick fillets). Brush salmon with glaze every five minutes.
Add lemon slices to grill during the last five minutes of grill time and cook for 2 to 3 minutes on each side. Brush salmon fillets with remaining glaze before serving. Serve with grilled lemon slices.