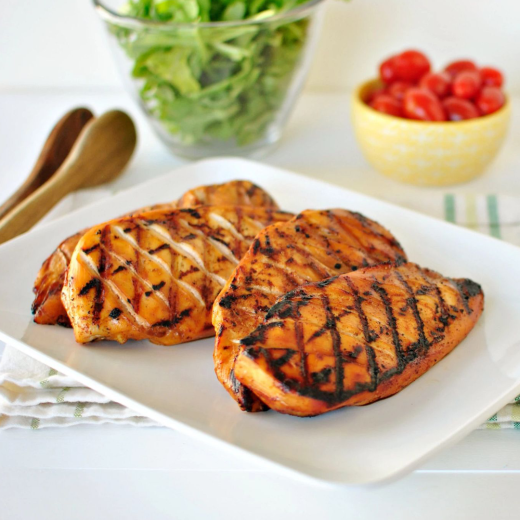 Garlic Bourbon BBQ-Marinated Grilled Chicken
Garlic, paprika and cayenne pepper give grilled chicken big charisma.
1/4 cup bourbon (optional, see alternative in TIPS)
1/2 cup soy sauce
1/4 cup water
1 teaspoon Simply Organic® Garlic Powder
1 teaspoon Simply Organic® Paprika
1/2 teaspoon Simply Organic® Ground Mustard Seed
1 sprinkle Simply Organic® Black Pepper
1 teaspoon Simply Organic® Cayenne Pepper
1 pinch sea salt
1/4 cup sorghum or molasses
4 organic chicken breasts, boneless, skin on or off
Directions
In a 2-cup (or larger) measuring cup, whisk together all liquids and spices. Use a fork to break up any spice "lumps."
Score chicken breasts 3 to 5 times on skin (smoother front) side by slicing about 1/2 inch into (but not all the way through) the meat. Do this regardless of whether you choose to leave the skin attached.
Place breasts in a shallow casserole or 1-gallon plastic bag, and add marinade. Mix until chicken is thoroughly coated. Refrigerate for 1 hour or up to overnight.
Preheat grill. Real wood charcoal tastes best, but gas works fine. Aim for medium-high heat – if your grill lid has a thermometer built into the lid, it should read about 375 degrees.
Remove chicken from marinade and scrape off as much excess as possible. Place on hot grill, skin side down, and grill 3 to 4 minutes. Turn breasts over and cook an additional 3 to 4 minutes.
Using a meat thermometer, check for doneness at thickest part of breast. Cook further if needed to reach internal temperature of at least 165 degrees.
Remove from heat and let stand, covered, for 5 minutes, then serve immediately.
RECIPE TIPS
*To leave out the bourbon, replace by doubling the water to 1/2 cup and adding one teaspoon Simply Organic® Vanilla Flavoring.
Before you place the chicken on the grill, be sure to remove excess marinade. This will help prevent flare-ups when grilling.