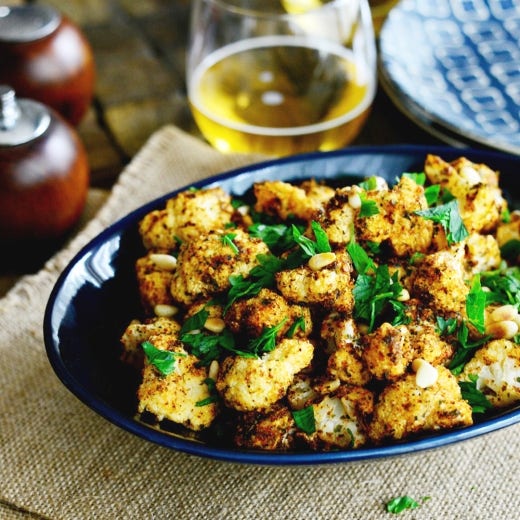 Garlic and Herb Roasted Cauliflower Casserole
A casserole usually gets its creamy richness from a heavy dose of cream or sour cream. This fresh casserole recipe is lightened up with Greek yogurt, then brought to life with organic garlic and herbs.
1 large head cauliflower, chopped
2 tablespoons butter
1 small onion, diced
2 tablespoons whole wheat flour
1 3/4 cups milk
1 package Simply Organic® Garlic & Herb Vegetable Seasoning Mix
1 cup shredded sharp cheddar cheese
1 container (5.3 ounces) plain Greek yogurt
Directions
Preheat oven to 375 degrees.
Bring a pot of water with a steamer basket inside to a boil. Add cauliflower to basket and steam for 5 minutes.
In a large skillet over medium heat, melt butter. Add onions and sauté, stirring frequently, for 5 minutes.
Add flour and stir until onions are coated. Slowly add milk and whisk constantly until slightly thickened.
Add seasoning mix, cheese and Greek yogurt. Stir until well combined.
Add steamed cauliflower and gently stir until cauliflower is coated. If using an oven-safe skillet, place in oven. Otherwise, transfer to a casserole dish and bake uncovered for 20 minutes.