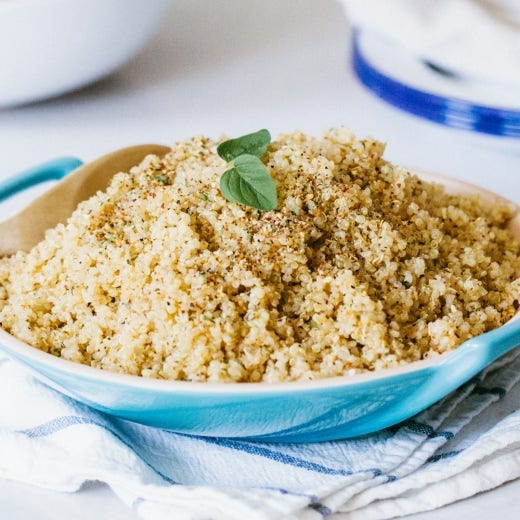 Spiced up quinoa featuring garlic herb seasoning. Serve with meat, poultry, tofu or vegetables
1 1/2 cups quinoa
2 1/4 cups water
1/2 teaspoon kosher salt, divided
3 tablespoons olive oil
1 1/2 tablespoons Simply Organic® Spice Right Garlic & Herb
Directions
Turn off the heat and let the pan sit covered for 5 minutes.
While the quinoa simmers and sits, in a small bowl, combine olive oil and garlic herb seasoning. Stir.
Uncover the quinoa and fluff with a fork. Stir in the oil and seasoning mix. Add remaining 1⁄4 teaspoon kosher salt. Serve warm.
Rinse quinoa and drain completely. In a saucepan, combine quinoa, water and 1/4 teaspoon kosher salt. Bring to a boil, then reduce the heat to low. Cover the pot and simmer for 13 to 15 minutes, until the water is completely absorbed (check the water level by separating the quinoa with a fork).