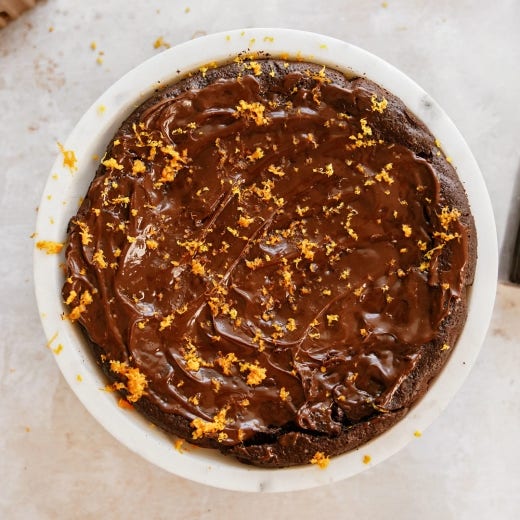 Rich, dark and oh-so-luscious, this grain-free chocolate cake gets a decadent boost of flavor from our pure organic Madagascar vanilla extract. Perfect for so many occasions.
1 teaspoon baking powder
1 tablespoon espresso powder
1/2 cup butter
1/3 cup unsweetened cocoa powder
2 teaspoons Simply Organic® Pure Madagascar Vanilla Extract or Vanilla Bean Paste
3/4 cup dark or semi-sweet chocolate chips or chopped chocolate
2/3 cup cane sugar
1 dash sea or Himalayan pink salt
4 large eggs, room temperature
Directions
Preheat oven to 350 degrees. Grease or oil an 8-inch round cake pan, line with parchment, then lightly grease or oil the parchment.
Into a double boiler or heat-proof bowl set over a water bath, add butter and chocolate; place over medium-low heat and melt, stirring, until just melted. Remove from heat.
Add sugar, espresso powder and vanilla, and stir to combine. Whisk in eggs until smooth. Whisk in cocoa powder, baking powder and salt. Don't worry if batter is thick, this should be a brownie-batter-like consistency.
Transfer mixture to cake pan and smooth out evenly. Bake for about 30 minutes or until edges are set and a toothpick inserted into the center comes out clean.Start testing at the 25-minute point.
Remove cake from oven and let cool in pan for 15 minutes.Run a sharp, small knife around edges of pan to loosen cake.
Place on a cooling rack and cool for 1 hour before topping with your icing of choice. Enjoy!
RECIPE TIP
If you prefer using a microwave to melt the chocolate, stir after each increment of about 20 seconds to avoid burning.