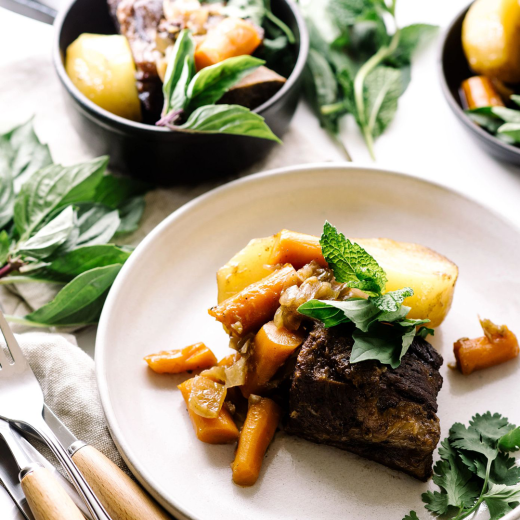 Five Spice Vietnamese Braised Beef Short Ribs
Vietnamese-style braised beef short ribs with onions, garlic, carrots and yellow potatoes, spiced and garnished with organic five spice powder, cilantro, mint and Thai basil. One-pot recipe, made in your Dutch oven.
4 large bone-in beef short ribs (about 4 to 5 pounds)
Sea salt or Himalayan pink salt, to taste
Simply Organic® Black Pepper, to taste
2 tablespoons olive or other neutral oil
1 yellow onion, diced
4 cloves garlic, minced
3 carrots, peeled and chopped
2 tablespoons rice vinegar
2 tablespoons dark brown sugar
1 tablespoon fish sauce
2 teaspoons Simply Organic® Five Spice Powder
2 to 3 cups low-sodium beef stock
3 to 4 small yellow potatoes, peeled and halved
Fresh cilantro, for garnish
Fresh mint, for garnish
Fresh Thai basil, for garnish
Directions
Preheat oven to 325 degrees.
Season all sides of the ribs generously with salt and pepper.
In a Dutch oven over medium-high heat, heat oil. Add ribs and cook until brown on all sides, then move to a plate.
Decrease heat to medium and add onion and garlic. Cook, stirring frequently, for 1 minute, then add ribs back to pot. Add carrots, rice vinegar, sugar, fish sauce and five spice powder.
Add just enough beef stock to barely cover the vegetables. Bring to a simmer, cover and place in the oven.
Cook for 1 hour, then add potatoes and cook for 1 1/2 to 2 hours, until beef is fork-tender. Remove from oven, move ribs and vegetables to a serving platter and cover with foil to retain heat.
Skim off fat. Strain remaining liquid into a saucepan over medium-high heat and cook until slightly reduced. Pour liquid over ribs, then garnish with cilantro, mint and Thai basil.