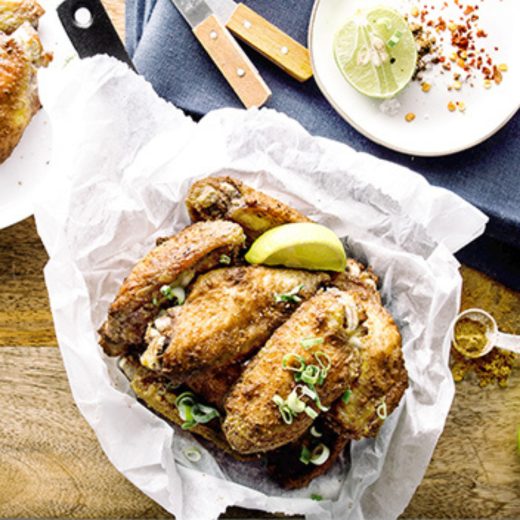 Crispy Oven-Baked Chicken Wings with Five Spice
These crispy oven-baked chicken wings are tossed in a savory five spice marinade for flavor that can't be beat.
2 tablespoons soy sauce
1 tablespoon rice vinegar
2 cloves garlic, minced
2 teaspoons Simply Organic® Five Spice Powder, plus more for finishing
2 pounds chicken wings
1 tablespoon baking powder
1 tablespoon potato starch or cornstarch
Sea or Himalayan pink salt, black pepper and sliced green onions, for garnish (optional)
Directions
Combine soy sauce, rice vinegar, garlic and five spice powder. Add chicken wings and toss, then let marinate for 2 hours.
Preheat oven to 400 degrees. Set a wire rack inside a lined rimmed baking sheet.
In a sealable bag, combine baking powder and potato starch or cornstarch. Remove chicken wings from marinade and place in bag.
Close bag and shake until wings are thoroughly coated.
Lay wings on prepared rack and bake for 45 minutes, until golden brown and crispy.
Season with a generous sprinkling of five spice powder, salt and pepper, if desired.
Garnish with green onions and serve hot.