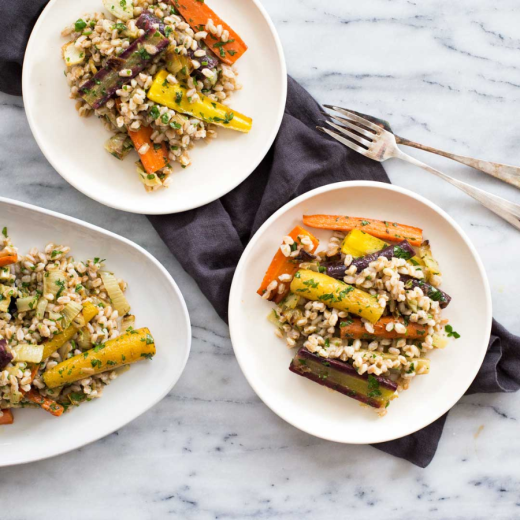 Farro Salad with Thyme-Roasted Carrots and Maple-Ginger Dressing
A year-round favorite, this delicious and hearty grain salad features tender carrots and crunchy fennel roasted together and tossed with a maple-ginger dressing.
1 cup semi-pearled farro
4 cups water
2 medium fennel bulbs, stalks removed, sliced into 1/2 inch thick wedges
9 tablespoons extra virgin olive oil, divided
1 teaspoon Simply Organic Thyme Leaf, divided
1 pound carrots, scrubbed, trimmed, halved lengthwise and sliced into 3- to 4-inch pieces
2 tablespoons maple syrup
2 tablespoons apple cider vinegar
1 1/2 teaspoons Dijon mustard
1/4 teaspoon Simply Organic Ground Ginger
1/2 teaspoon kosher salt
1/2 cup fresh parsley, finely chopped
Directions
To Make the Farro:
In a medium saucepan over medium-high heat, bring farro and water to a boil. Reduce to a low simmer and cover pot. Cook for 25 to 30 minutes, or until chewy but tender. Drain away any excess water and set aside to cool.
Preheat the oven to 450 degrees.
To Make the Roasted Vegetables:
On a large rimmed baking sheet, spread fennel evenly and drizzle with 3 tablespoons olive oil and 1/2 teaspoon thyme.
Roast fennel for 10 minutes then remove pan from oven.
Add carrots, 3 tablespoons olive oil and remaining 1/2 teaspoon thyme. Toss to combine.
Return to oven and roast for 20 to 25 minutes more, or until vegetables are browned and tender.
To Make the Salad:
For the dressing: In a small bowl, whisk together remaining 3 tablespoons olive oil, maple syrup, apple cider vinegar, mustard, ginger, and salt. Set aside.
In a large salad bowl, add farro, roasted carrots, roasted fennel and parsley, stirring to combine.
Toss well with dressing. Taste and adjust seasoning as desired. Serve immediately. Refrigerate leftovers, covered, for up to 4 days.
Recipe Tips:
Whole farro may be used. Soak farro overnight in 2 cups water prior to making the dish.
There's no need to peel the carrots here; just wash them well.
This salad is best served warm or at room temperature, so if you have leftovers in the refrigerator, let them come to room temperature before serving.