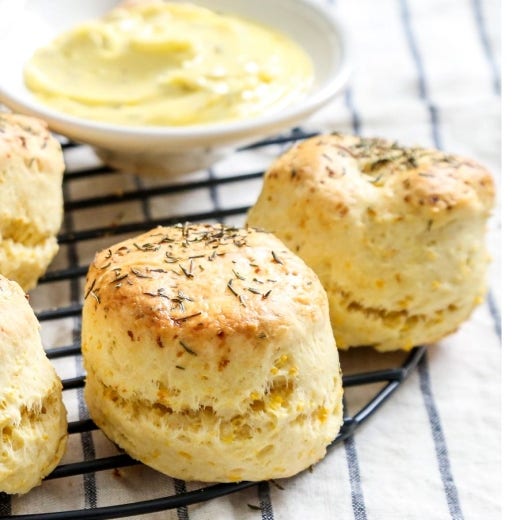 Delicata Squash and Thyme Biscuits
Give your biscuits a clean twist with delicata squash and organic thyme, rosemary and sage following this simple squash biscuits recipe.
For the Biscuits:
1 delicata squash, seeds removed, peeled and cut into 1 inch slices
2 1/4 cups all-purpose flour
1 tablespoon baking powder
2 teaspoons Simply Organic® Thyme
1 teaspoon Simply Organic® Sage
8 tablespoons salted butter, room temperature
1 cup + 1 tablespoon whole milk, divided
1 egg
For the Rosemary Butter:
8 tablespoons cold unsalted butter, cubed
1 tablespoon Simply Organic® Rosemary
1 tablespoon extra-virgin olive oil
1 tablespoon honey (optional)
Directions
Preheat oven to 400 degrees.
In a food processor*, shred squash slices. Add flour, baking powder, thyme and sage. Pulse for 30 seconds, scraping sides of food processor bowl once or twice if needed.
With food processor running, add cubed cold butter 1 piece at a time. Pulse for about 30 seconds, until mixture resembles coarse crumbs.
With food processor running on low speed, slowly add the 1 cup milk. Once ingredients come together to form a ball, stop food processor, taking care not to overwork or over-process the dough.
Turn dough out onto a well-floured surface and gently pat it down to form a rectangle, sprinkling a little flour on top if needed. Fold dough over top of itself lengthwise. Cut out biscuits with a biscuit cutter, then place on a baking stone.
In a small bowl, combine egg and the 1 tablespoon milk. Whisk until well combined, then brush each biscuit with egg wash.
Bake for about 12 minutes, until golden on top.
While biscuits bake, make rosemary butter: Using a hand mixer, beat together butter, rosemary and olive oil until smooth and creamy.
Serve biscuits warm with rosemary butter.
Recipe Tips:
*Alternative Directions without Food Processor: Use a cheese grater to shred squash (do not slice first). Combine ingredients with a wooden spoon and use your fingers or a pastry cutter to combine butter with dry mixture.
To prep biscuits ahead, prepare dough, shape into biscuits and place in a freezer-safe bag or container to freeze. To bake, simply place frozen biscuits on a baking sheet, brush with egg wash and bake at 400 degrees, adding a couple additional minutes to baking time.
If you use unsalted butter for the rosemary butter, add a couple pinches of salt, to taste.