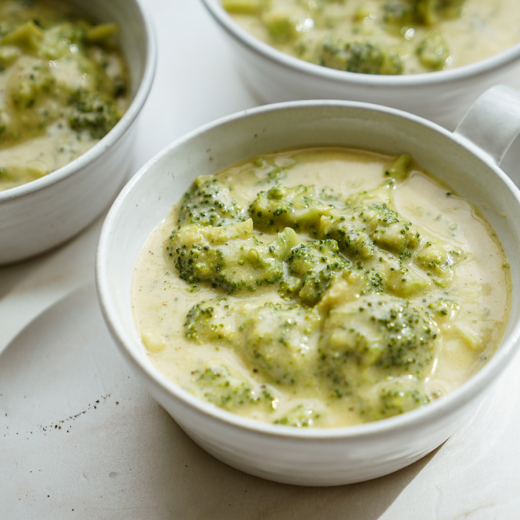 Dairy-Free Broccoli Cheddar Soup
Classic broccoli cheddar soup made dairy free; creamy, cheesy, and ultra-comforting.
2 1/2 cups almond milk, unflavored, unsweetened
1 cup vegetable broth
2 tablespoons vegan butter
3 cups chopped broccoli
1 package Simply Organic® Dairy-Free Cheddar Sauce Mix
1/2 cup water
Directions
In a large pot, add almond milk, broth, vegan butter and broccoli. Bring to a boil and cook for 15 to 20 minutes, until broccoli is tender.
In a separate bowl, whisk cheddar sauce packet into water, stir until dissolved.
Add sauce packet/water mixture to pot and simmer 5 minutes.
Let cool 5 minutes, then serve.
CHEF SUGGESTS:
Sauté diced onion and carrot in pot with butter before adding liquid and broccoli.
For deeper flavor, roast broccoli 15 to 20 minutes at 425 degrees before adding to pot in Step 1. Reduce boil time and cook just until tender.