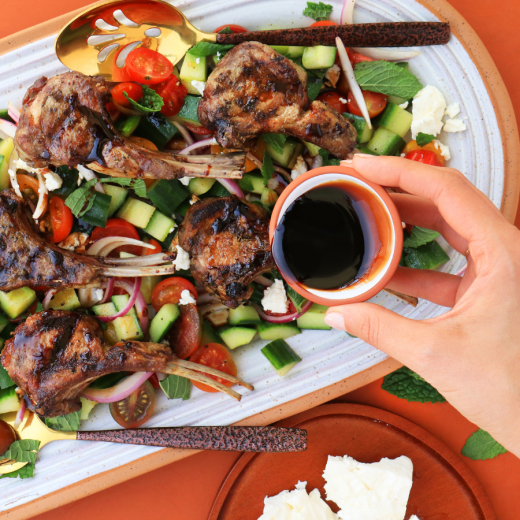 Cumin Dusted Lamb Chops with Turkish Salad
Need to impress but short on time? These Turkish-inspired lamb chops are quick, delicious, and deceptively simple, thanks to the distinctively warm and savory flavor of Turkish cumin. Make the salad while the lamb marinates and serve up a meal that will satisfy.
For the Bone-in Lamb Chops:
3 tablespoons olive oil
1 lemon, juiced
2 racks lamb, excess fat trimmed, cut into double rib portions
Sea or Himalayan pink salt, to taste
For the Turkish Salad:
1 large hot-house cucumber, seeded and diced
1 pint cherry tomatoes, halved
1/4 cup sliced red onion
1 lemon, juice and zest
2 tablespoons olive oil
1 cup loosely packed, roughly chopped fresh mint leaves
Sea or Himalayan pink salt, to taste
For Serving:
Crumbled feta, optional
Pomegranate molasses, optional, for drizzling
Directions
Preheat gas grill to medium-high.
In a large, deep bowl, add olive oil, lemon juice, cumin and oregano, and whisk to combine. Add lamb and toss to coat, making sure meat is well coated in marinade. Season with salt and pepper and let sit at room temperature for 15 minutes while grill preheats.
In a medium bowl, combine cucumber, cherry tomatoes, red onion, lemon juice and zest, olive oil and mint leaves. Season to taste with salt and pepper and set aside.
Place lamb on grill and cook for about 4 to 6 minutes per side for medium rare (to 135 degrees). Remove from heat and tent with foil. Let rest for 5 minutes. The internal temperature of the lamb should rise to 145 degrees for the perfect medium rare.
To serve, place prepared salad on a large platter and top with lamb, pomegranate molasses and feta (if using).