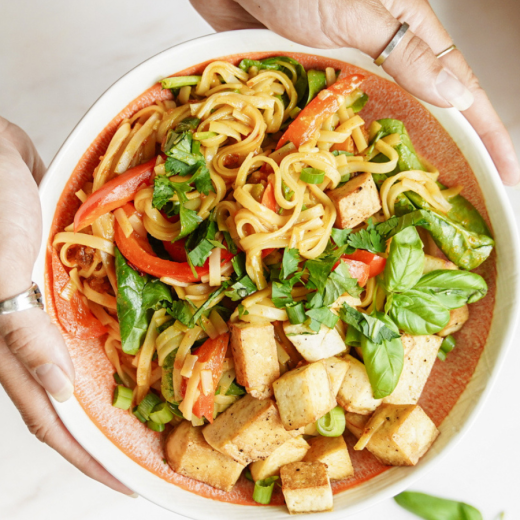 Creamy Curry Tofu Noodle Bowl
This luscious and satisfying vegan curry noodle bowl recipe features well-seasoned crisp tofu, colorful fresh veggies and an exceptionally tasty curry-ginger sauce that brings it all together.
FOR THE BOWL:
8 ounces rice noodles (Pho style)
2 tablespoons sesame oil, divided
1 block firm, pressed tofu, cut into bite sized cubes
1 tablespoon Simply Organic® Curry Powder
Pinch of sea or pink Himalayan salt
Pinch of Simply Organic® Black Pepper
3 small carrots, cut into 1-inch strips
1 large red pepper, sliced lengthwise
5 green onions, sliced
2 cups fresh spinach
2 tablespoons coconut cream
FOR THE SAUCE:
2 tablespoon soy sauce
2 tablespoons Simply Organic® Curry Powder
2 tablespoons maple syrup
1 tablespoon rice wine vinegar
1 tablespoon chili paste
1 teaspoon Simply Organic® Ginger
FOR TOPPING:
Fresh basil
Fresh cilantro
Fresh lime wedges (optional)
Directions
In a large pot, add water to two-thirds full and bring to a boil. Cook rice noodles according to package instructions and drain.
Meanwhile, in a large nonstick skillet or pot, heat 1 tablespoon sesame oil over medium heat; add tofu cubes and cook for 3 to 4 minutes per side.Gently season with curry powder, salt and pepper, and cook until each side is golden brown and crispy. Set aside.
In the same skillet, heat remaining sesame oil on medium heat; add carrots, green onions and red peppers and cook for about 5 to 6 minutes, stirring occasionally to avoid burning.
In a medium mixing bowl or small pot add soy sauce, curry powder, maple syrup, rice wine vinegar, chili paste and ginger.Whisk to combine.
Add cooked noodles to pan containing vegetable mixture, then add soy-curry sauce, spinach and coconut cream. Cook for another 2 minutes, just until ingredients are combined and warm, being careful not to over-cook noodles.
Serve with fresh, basil, cilantro, lime and the gorgeous crispy tofu cubes.