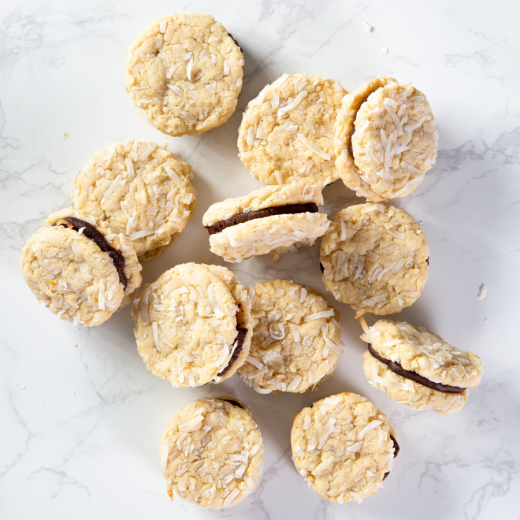 Coconut Mocha Sandwich Cookies
Stuffed with a fudgy, coffee-spiked filling featuring our pure, organic vanilla extract and rolled in coconut, this sandwich cookie recipe is packed with flavor.
For the Cookies:
2 tablespoons refined coconut oil, room temperature
1/3 cup granulated sugar
1/3 cup firmly packed light brown sugar
3 ounces cream cheese, room temperature
1 large egg yolk, room temperature
½ teaspoon tightly packed orange zest
2 teaspoons fresh orange juice
½ cup boiling water (see Recipe Note)
¼ teaspoon Simply Organic® Pure Madagascar Vanilla Extract or Vanilla Bean Paste
1 cup all-purpose flour
½ teaspoon baking powder
¼ teaspoon baking soda
¼ teaspoon kosher salt
2¼ cups sweetened flaked coconut, finely chopped, divided
For The Chocolate-Mocha Filling (makes about 1¼ cups):
6 ounces 60% cacao bittersweet baking chocolate bars, finely chopped
1½ teaspoons refined coconut oil, room temperature
1 teaspoon dark-roast instant coffee granules (optional)
¼ teaspoon kosher salt
1/8 teaspoon orange zest
Directions
Preheat oven to 325 degrees. Line 2 rimmed baking sheets with parchment paper.
In the bowl of a stand mixer, stir coconut oil by hand until softened and smooth. Add sugars and cream cheese. Using the paddle attachment, beat at medium speed for 1 to 2 minutes, until fluffy and combined, stopping to scrape sides of bowl. Beat in egg yolk. Beat in orange zest, juice and vanilla.
In a medium bowl, whisk together flour, baking powder, baking soda and salt. Add flour mixture to sugar mixture all at once; beat at low speed until nearly combined. Add 1½ cups coconut; beat just until combined.
In a small shallow bowl, place remaining ¾ cup coconut.
Scoop dough by tablespoonfuls and roll into balls, then roll in coconut. Lightly dampen hands to roll dough balls if coconut isn't sticking well. Flatten into 2-inch rounds, pressing together any cracks in edges, and place at least 1 inch apart on prepared pans.
Bake, one pan at a time, for 8 to 12 minutes until bottoms of cookies are lightly golden and edges and tops are just set, but cookies still seem soft and slightly underdone. Rotate each pan halfway through baking. Let cool on pan for 5 minutes, then transfer to wire racks to cool completely.
Make Chocolate-Mocha Filling: In a medium metal bowl, place chocolate, coconut oil, instant coffee, salt and orange zest. Pour ½ cup boiling water over top; with a utensil, press chocolate down so all pieces are submerged. Let stand for 2 minutes, then whisk until smooth. Whisk in vanilla. Let stand at room temperature 2 to 3 hours, until thick and pipeable, (Alternatively, place bowl in an ice water bath, and stir until thick and pipeable.)
To make the Cookie Sandwiches: In a pastry bag fitted with a ¼-inch round piping tip (Wilton No. 10), place filling. Turn half of the cookies flat-side up and pipe filling onto flat side. Place remaining cookies, flat side down, on top of filling.
Recipe Notes:
For best accuracy, measure out already-boiling water to use in this recipe.
*Total recipe time listed above reflects using the ice bath in Step 7.