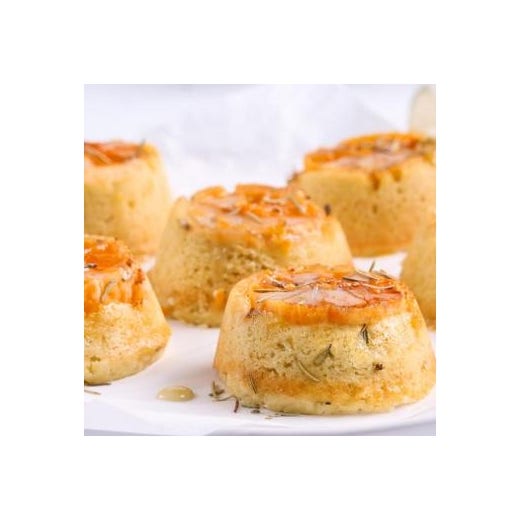 Clementine Upside Down Cupcakes
A fun upside down cupcakes recipe made with bright clementines balanced by herby rosemary.
FOR THE BATTER:
1 cup butter, softened
1 1/3 cups sugar
4 eggs
1/2 cup sour cream
3 tablespoons clementine juice
1 tablespoon clementine zest
1 teaspoon Simply Organic® Pure Vanilla Extract
2 cups all-purpose flour, sifted
1 teaspoon baking powder
1/4 teaspoon sea salt or pink Himalayan salt
FOR THE ICING:
1/4 cup powdered sugar
1 tablespoon clementine juice
1 teaspoon clementine zest
FOR ASSEMBLY:
8 teaspoons coconut sugar
4 teaspoons Simply Organic® Rosemary
16 clementine slices
Directions
To Make the Batter:
Preheat oven to 350 degrees.
In a large bowl, combine butter and sugar. Use an electric mixer to beat for 2 to 3 minutes, until well whipped.
With the mixer on medium speed, add eggs, one at a time.
Add sour cream, clementine juice, clementine zest and vanilla extract. Beat for about 1 minute, until well combined, scraping the sides of the bowl if necessary.
Add flour, baking powder and salt. Stir until well combined.
To Make the Icing:
In a small bowl, combine powdered sugar, clementine juice and clementine zest. Whisk until well combined.
To Assemble:
Into each cup of a greased cupcake or muffin pan with 16 cups, sprinkle 1/2 teaspoon coconut sugar and 1/4 teaspoon rosemary.
Top each with a clementine slice, then a dollop of cupcake batter.
Bake for 25 minutes, until cupcake batter is set. Remove cupcakes from pan and flip upside down. The tops of the cupcakes should be slightly caramelized from the coconut sugar.
Allow to rest for 5 minutes, then drizzle with icing.
Recipe Tip:
For an orange instead of clementine flavor, substitute orange juice for the clementine juice and orange slices for the clementine slices.