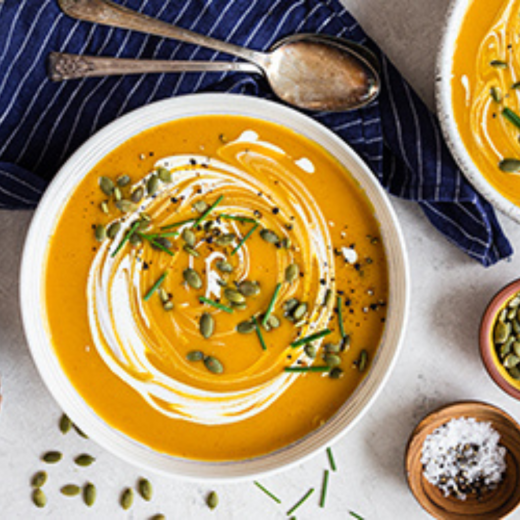 Cinnamon, Vanilla and Apple Butternut Squash Soup
This butternut squash, apple, and cinnamon-vanilla soup is a soul-warming and delicious dish perfect for fall and winter. The creamy texture of the soup doesn't come from cream, but from the butternut squash! This is a great spin on a classic as the flavors of our ceylon cinnamon and pure vanilla extract really shine through. We also love how this recipe showcases that our vanilla extract can be used in savory dishes too!
2 tablespoons olive oil
1 onion, chopped
2 cloves garlic, chopped
1 teaspoon Simply Organic® Ceylon Cinnamon
1/2 teaspoon Simply Organic® Cayenne
1/2 teaspoon Simply Organic® Garam Masala
1 medium butternut squash, peeled and diced
2 Granny Smith apples, cored and chopped
6 cups vegetable broth
Kosher salt, as needed
1 lime, juiced
1/2 teaspoon Simply Organic® Pure Madagascar Vanilla Extract
Fresh cilantro, chopped, for garnish
Pumpkin seeds, for garnish
Sour cream or coconut cream, for garnish
Directions
In a large pot, heat oil. Add onions and garlic and sweat for 5 minutes until translucent.
Add cinnamon, cayenne and garam masala, and sauté for 2 minutes.
Add butternut squash, apples, vegetable broth and salt; cover and cook for 25 minutes until butternut squash is tender and cooked through.
Transfer to a blender and blend until smooth. Add lime juice and vanilla extract and stir to mix well.
Transfer to serving bowl, garnish with cilantro, pumpkin seeds, sour cream or coconut cream if desired, and serve hot.