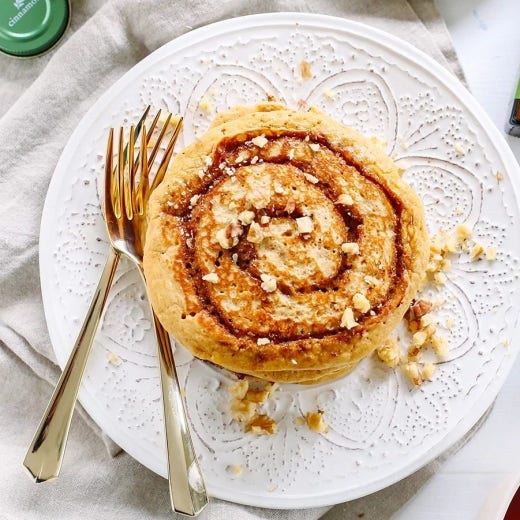 Swirls of brown sugar, melted butter and organic cinnamon turn fluffy whole wheat pancakes into the ultimate cinnamon roll experience.
8 tablespoons unsalted butter, melted, divided
1/3 cup brown sugar
3 1/2 teaspoons Simply Organic® Cinnamon, divided
2 cups buttermilk
2 eggs
2 tablespoons pure maple syrup, plus more for serving
1 teaspoon Simply Organic® Pure Madagascar Vanilla Extract
2 cups whole wheat flour
1 teaspoon baking soda
1/2 teaspoon baking powder
1/4 teaspoon sea salt or Himalayan pink salt
Chopped walnuts, for garnish (optional)
Sliced bananas and fresh raspberries, for garnish (optional)
Directions
In a small mixing bowl, combine 2 tablespoons butter, brown sugar and 1 1/2 teaspoons cinnamon. Whisk until well combined. Pour into a squeeze bottle* and set aside.
In a large mixing bowl, combine buttermilk, eggs, maple syrup, remaining 6 tablespoons butter and vanilla extract. Whisk until well combined.
In a medium-sized mixing bowl, combine flour, baking soda, baking powder, salt and remaining 2 teaspoons cinnamon. Whisk until well combined.
Pour wet ingredients into dry ingredients, mixing just until combined.
Grease a griddle and preheat to low. Pour pancake batter on griddle to form pancakes. Once bubbles appear on tops of pancakes, swirl cinnamon roll topping onto cakes, starting in the centers and avoiding the outer edges. Allow topping to set for about 30 seconds, then flip pancakes and cook for another 1 to 2 minutes.
Garnish with chopped walnuts, if desired, and serve with maple syrup.
RECIPE TIPS
*If you don't have a squeeze bottle, the cinnamon roll topping can be poured on the batter from the bowl; it just might be more difficult to maintain even swirls.
For an alternative to the buttermilk, substitute 2 cups whole milk combined with the juice of 1 lemon (about 2 tablespoons). Allow mixture to rest for 5 to 10 minutes before use.