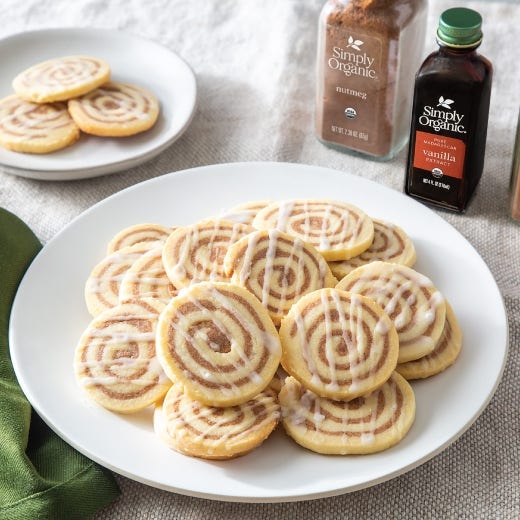 There's such wonderful satisfaction in making cookies from scratch. And even more so when you set a plate of these deliciously tempting cinnamon roll cookies in front of your family or guests. Featuring our organic pure vanilla extract, cinnamon and nutmeg, we think you'll all be pleased.
This recipe makes 52 cookies and 1/2 cup glaze.
For the Cookies:
1 cup unsalted butter, softened
1 cup granulated sugar
1 large egg, room temperature
3¼ cups all-purpose flour
1½ teaspoons baking powder
1 teaspoon kosher salt
1 tablespoon Simply Organic® Cinnamon
½ teaspoon Simply Organic® Ground Nutmeg
For the Glaze:
1 cup confectioners' sugar
2½ tablespoons whole milk
Directions
In the bowl of a stand mixer fitted with a paddle attachment, beat butter and sugar at medium speed for 3 to 4 minutes until fluffy, stopping to scrape sides of bowl. Add egg and vanilla, beating until combined.
In a medium bowl, whisk together flour, baking powder and salt. Gradually add flour mixture to butter mixture, beating on low speed until a dough forms. Turn out two-thirds of dough onto a clean surface; knead dough if any flour bits remain. Shape into a disk and wrap in plastic wrap. Refrigerate for at least 1 hour.
To remaining dough, add cinnamon and nutmeg. Beat at low speed until combined. Turn out onto clean surface and shape into a disk. Wrap in plastic wrap and refrigerate for at least 1 hour.
Let doughs stand at room temperature for about 5 minutes. On a lightly floured sheet of parchment paper, roll plain dough into a 14-x-12-inch rectangle. Transfer on parchment to a baking sheet and refrigerate for 15 minutes. Repeat procedure with spiced dough.
Transfer plain dough with parchment onto a flat surface. Carefully invert spiced dough on top of plain dough. Top with parchment and roll rolling pin over doughs to press together. Peel away top parchment. From the long side, roll dough into a log using bottom parchment to help lift and roll; roll as tightly as possible to avoid gaps. (If dough cracks, let stand for a few minutes until pliable). Trim ½ inch off each end. Tightly wrap roll in parchment, twisting ends to seal. Refrigerate for at least 2 hours, or freeze until ready to use.
Preheat oven to 350 degrees. Line 2 baking sheets with parchment paper.
Cut log into ¼-inch-thick slices. Place 1 inch apart on prepared pans.
Bake for 8 to 10 minutes, until edges are golden brown. Let cool completely on pans.
In a medium bowl, whisk confectioners' sugar and milk together until smooth. Immediately drizzle glaze onto cookies.