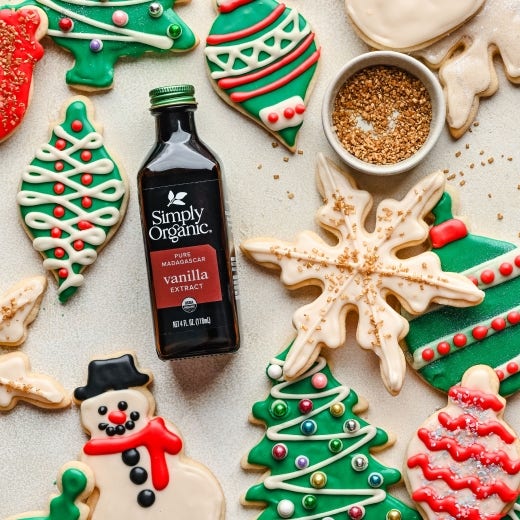 Classic rolled sugar cookie dough richly flavored with our Pure Madagascar Vanilla Extract and (optional) mild and sweet Ceylon Cinnamon make for an exceptional treat in this Christmas Sugar Cookies recipe.
Note: This makes a very large batch of 4 dozen cookies. Can cut by half if desired.
For the Cookies:
1 1/2 cups unsalted butter, softened to room temperature
2 cups cane sugar
2 teaspoons Simply Organic® Pure Madagascar Vanilla Extract (or Simply Organic® Non-Alcoholic Vanilla Flavoring if alcohol-free is preferred)
4 large eggs
5 cups all-purpose flour
2 teaspoons baking powder
2 teaspoons sea salt
1/2 teaspoon Simply Organic® Ceylon Cinnamon (optional)
For the Icing:
3 1/2 cups powdered sugar
4 - 6 tablespoons milk or non-dairy alternative
Food colors of choice (natural food coloring recommended)
1/2 - 1 teaspoon Simply Organic® Pure Madagascar Vanilla Extract (optional; will make white icing off-white)
Directions
To Make the Cookies:
Into a large mixing bowl (or stand mixer), add butter, sugar and vanilla extract. Beat at medium speed for about 3 minutes until light and fluffy.
Add in eggs one at a time, mixing just until combined after each addition.
In a separate bowl, whisk together flour, baking powder, salt and cinnamon.
Add dry ingredients to wet ingredients in 3 to 4 batches, mixing well between each addition, until dough comes together.
Cover with a clean kitchen towel and refrigerate for 1 hour.
Preheat oven to 350 degrees. Line several baking sheets with parchment paper.
Divide dough in half. On a lightly floured surface, roll out one half of dough into a rectangle about 1/4-inch thick. Using cookie cutters, cut dough into desired shapes. Re-roll remaining dough and cut shapes until all dough has been used. Repeat with other half of dough, or wrap and refrigerate or freeze for later use.
Bake cookies for 11 to 12 minutes, let cool in pan for a few minutes, then transfer cookies to a wire rack to cool completely.
To Make the Icing:
In a medium bowl, add powdered sugar and milk, and whisk until blended and smooth. Add vanilla extract, if desired, and whisk again.
Divide into smaller, separate bowls based on the number of colors you want. Add 1 to 2 drops of food coloring to each, stirring to mix; add more if needed to achieve desired color.
Decorate cookies. Serve and enjoy!