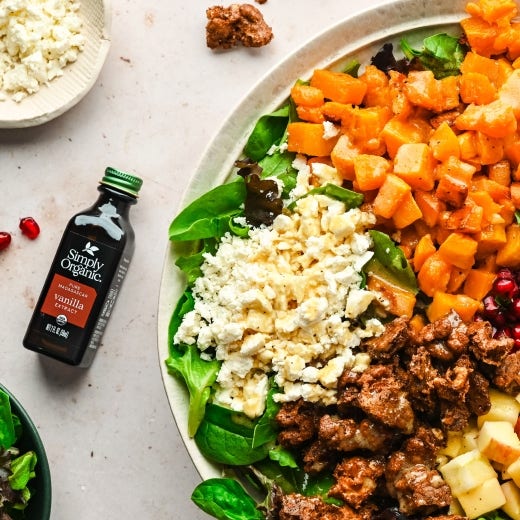 All the colors of the season come together in this gorgeous, multi-textured and wondrously flavored Christmas salad recipe, featuring mixed baby greens, Honeycrisp apples, roasted squash, pomegranate seeds, feta and gluten-free candied pecans. The mostly savory lemon Dijon dressing, with its touch of honey and vanilla, provides the consummate finish.
For the Candied Pecans (optional, can use 1 cup toasted pecans):
2 cups pecan halves
1 egg white
1/4 cup brown sugar
1/4 cup cane sugar
1 teaspoon Simply Organic® Cinnamon
1/2 teaspoon sea or Himalayan pink salt
1/2 teaspoon Simply Organic® Pure Madagascar Vanilla Extract
For the Salad:
3 cups raw butternut squash, peeled and diced into ½-inch cubes
Olive oil, to taste
Sea Salt, to taste
Black Pepper, to taste
16 ounces mixed salad greens
2 large Honeycrisp apples, diced
3/4 cup pomegranate seeds
1 cup crumbled feta cheese
For the Dressing:
1/4 cup olive oil
2 tablespoons Dijon mustard
2 tablespoons lemon juice
1 teaspoon Simply Organic® Vanilla Extract
1 tablespoon honey
1/2 teaspoon Simply Organic® Garlic Powder
1/4 teaspoon Simply Organic® Black Pepper
1/2 teaspoon sea or Himalayan pink salt
Directions
To Make the Candied Pecans:
Preheat oven to 300 degrees and line a baking sheet with parchment paper.
In a medium bowl, whisk egg white. Add nuts and toss to coat. Add brown sugar, cane sugar, cinnamon, salt and vanilla extract, and toss until evenly coated.
Transfer nuts to sheet pan in an even layer and bake for 20 minutes, stir, and bake for another 20 minutes. Remove from oven and let cool completely before breaking into pieces. (We used about 1 cup of candied pecans in the salad. Save the remaining cup for snacking!)
To Make the Salad:
Preheat oven to 400 degrees. Toss squash with olive oil, salt and pepper to taste. Transfer to a sheet pan and roast for 25 to 35 minutes, until fork tender and lightly browned. Let cool.
Meanwhile, make the dressing: In a small bowl, add all ingredients for the dressing and whisk to combine.
Into a large bowl or serving platter, add salad greens. Top with roasted butternut squash, apples, pomegranate seeds, feta, 1 cup candied pecans. Toss together with the dressing, and serve.