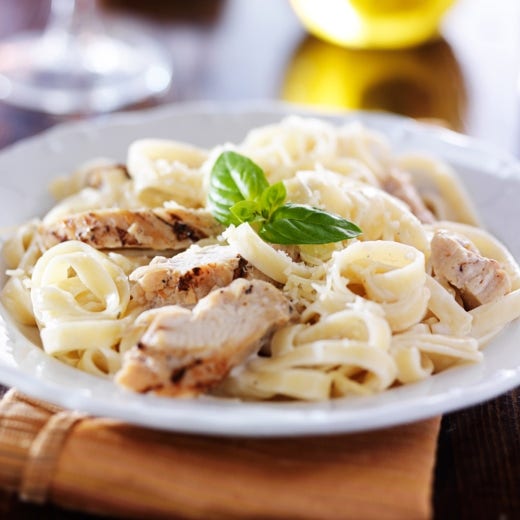 This traditional Italian dish features zesty Simply Organic Alfredo Sauce Mix, adding familiar and comforting flavor to each creamy bite of pasta. With the addition of corn and parsley to bring the flavors together, this dish is sure to please any palate.
1 tablespoon Simply Organic® Parsley Flakes
2 cups whole-grain pasta
1 packet Simply Organic® Alfredo Seasoning Mix
1 pinch Simply Organic® Black Pepper, to taste
1/2 pound boneless skinless chicken breasts, diced to bite-size pieces
2 teaspoons olive oil
1 cup frozen corn
1 cup milk or non-dairy alternative
1 pinch sea or Himalayan pink salt, to taste
Directions
In a medium sauce pan, sauté chicken in olive oil over medium heat.
Once chicken is browned, add frozen corn, milk, Parmesan and Alfredo mix.
Bring to a boil, add parsley, salt and pepper, to taste. Toss with cooked pasta.
RECIPE TIP
Add in 1/4 cup of onions, mushrooms, red pepper, or spinach and sauté with chicken.