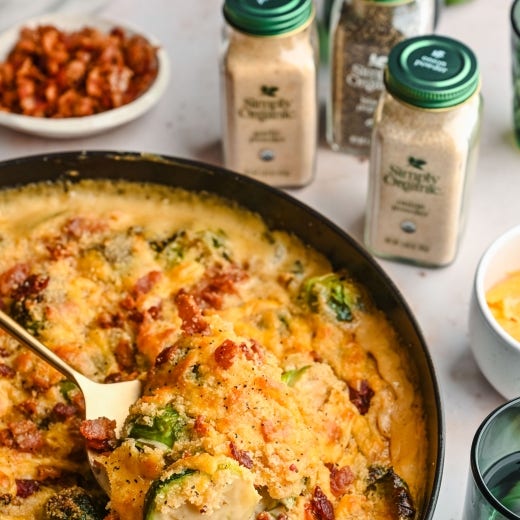 Cheesy Brussels Sprouts with Bacon
A wonderfully creamy, cheesy Brussels sprouts recipe complemented with crispy bacon and all-organic seasonings — so good even the Brussels sprouts haters will have trouble resisting! This dish can go from stovetop to oven to table easily in a single skillet. Use your favorite for a beautiful presentation at your holiday table.
10 ounces uncooked bacon, chopped
2 pounds Brussels sprouts, ends trimmed and halved
1/4 cup butter
1/4 cup all-purpose flour (use rice flour if avoiding wheat or gluten)
2 cups whole milk
3 cups shredded cheddar cheese
1/2 teaspoon Simply Organic® Garlic Powder
1/2 teaspoon Simply Organic® Onion Powder
3/4 teaspoon sea or Himalayan pink salt
1/2 teaspoon Simply Organic® Black Pepper
1/2 cup breadcrumbs (any gluten-free breadcrumbs are fine if needed)
1 tablespoon melted butter
Directions
Preheat oven to 350 degrees.
Heat a large cast-iron or other oven-safe skillet over medium heat. Add bacon and cook until crispy, then remove from pan with a slotted spoon.
Add Brussels sprouts to skillet and sauté, stirring often, for about 15 minutes until mostly fork tender. Season with a pinch of salt and pepper. OPTIONAL: Deglaze with 1 to 2 tablespoons water or broth every 5 minutes to prevent burning and help steam sprouts, which will cook them faster.
Meanwhile, in a saucepan, heat the ¼ cup butter over medium heat. Whisk in flour, cooking for 1 minute. Slowly stream in milk, whisking constantly, until thickened. Stir in 1½ cups cheese, garlic powder, onion powder, salt and pepper. Continue stirring until cheese is melted.
When Brussels sprouts are finished cooking, remove from heat and pour cheese sauce over sprouts. Add ⅔ of the crispy bacon and stir well to combine.
In a bowl, stir together melted butter and breadcrumbs, then mix in remaining 1½ cups cheddar cheese.
Top casserole with cheese-breadcrumb mixture and remaining crispy bacon. Bake for 25 to 30 minutes, until golden brown and cheese is melted.